Persistent winds from the south-western quadrant
Victorian Surf Forecast by Craig Brokensha (issued Monday 6th June)
Best Days: Today Surf Coast, keen surfers early tomorrow Surf Coast, similar Friday and Saturday mornings, Tuesday morning next week Surf Coast
Features of the Forecast (tl;dr)
Mix of swells tomorrow with early fresh W/NW winds, tending strong SW mid-morning
Moderate sized mid-period S/SW swell for Wed AM with strong W/SW-SW winds (possibly W'ly early on the Surf Coast)
Building mid-period S/SW swell Thu, peaking Fri AM with gusty W/NW tending strong SW-W/SW winds
Building mid-period S/SW swell Sat with gusty W/NW tending strong SW-W/SW winds
Large S/SW swell Sun with strong SW-S/SW winds, easing Mon with fresh S/SW-SW winds
Small-fading S/SW swell Tue with W/NW winds
Recap
Fun waves across the Surf Coast on the weekend with an infrequent, mid-period W/SW swell to 2-3ft on the magnets Saturday, similar yesterday morning before building more into the late afternoon to a more consistent 3ft. Exposed locations to the east were wind affected and choppy.
Today we've got a mix of mid-period swell and inconsistent SW groundswell with better 3-4ft sets on the Surf Coast though slightly lumpy/raw conditions. Winds will remain favourable all day for the Surf Coast as the swell also holds.
This week and weekend (Jun 7 - 12)
Cold, windy and with lots of snow.
Following last week's cold outbreak we're now under the influence of a second but more prolonged cold episode as a strong node of the Long Wave Trough pushes across us and then very slowly east.
This will project a flurry of cold, polar fronts up and across us during this week, initially weak in strength ahead of some stronger activity mid-late week, but by the time the swells arrive, we'll be under a less favourable south-western flow on the back of the LWT node.
Looking at the coming days, and today's inconsistent SW groundswell will ease tomorrow with some building, weak S/SW energy tomorrow afternoon and more so Wednesday.
Fetches of S/SW winds will be projected up and into the state with tomorrow coming in around 3ft+ on the Surf Coast, 4-5ft to the east, a touch bigger Wednesday morning but easing from 3-4ft on the Surf Coast and 4-6ft to the east.
Conditions won't be ideal but OK early tomorrow with a fresh W/NW breeze, shifting strong SW mid-morning, with Wednesday seeing strong SW-W/SW winds (possibly W'ly for a period early on the Surf Coast).
From Thursday we should see some new, mid-period S/SW swell building through the day, generated by a strengthening polar front projecting up and into us, with a touch more vigour than tomorrow's. This will be followed by further systems into Friday and the weekend, though the strongest fetches of gale-force winds will develop too far east of our swell window, block by Tasmania.
Regardless we should see moderate sized + pulses of S/SW energy, initially filling in Thursday, peaking Friday morning, with a secondary stronger pulse for Saturday afternoon and third for Sunday.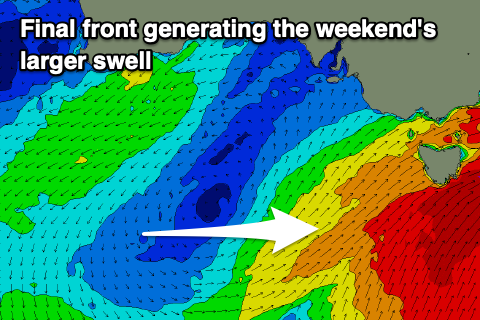 Size wise Friday morning's should come in around 4ft on the Surf Coast, 5-6ft to the east with Saturday's coming in at a similar if not slightly bigger size, strongest Sunday and to 5-6ft and 6-8ft respectively.
Locally winds look to be generally strong from the SW-W/SW through the end of the week, but depending on the timing of each successive front we'll see winds tip W/NW through the mornings for short periods on the Surf Coast.
At this stage this looks to be most likely Friday and Saturday with less favourable SW tending S/SW winds on Sunday.
Into next week the swell will ease as winds improve, though Monday looks to remain mostly onshore, clean on the Surf Coast Tuesday but easing from 2ft+. The rest of next week looks clean but small owing to the blocking effects of a high sitting to our west later this week and on the weekend but we'll look at this closer on Wednesday.