Slow end to the week, then overactive from Sunday into next week
Victorian Surf Forecast by Craig Brokensha (issued Wednesday 15th September)
Best Days: Exposed beaches tomorrow morning and Friday, protected spots Saturday, Sunday, Monday and Tuesday, Thursday and Friday week
Features of the Forecast (tl;dr)
Small, inconsistent swells for tomorrow and Fri
Light E-E/NE winds tomorrow (possibly variable early on the Surf Coast), mod-fresh S/SE into the PM, strong N/NE on Fri
Inconsistent W/SW groundswell Sat with fresh NW tending strong W/NW winds
Mod-large W/SW groundswell for Sun AM with strong N/NW tending NW winds
Large W/SW groundswell building Mon PM with strong W/NW tending W winds, peaking Tue AM with strong W/SW winds (W/NW early on the Surf Coast)
Easing surf Wed with SW winds (possibly W early on the Surf Coast)
Mod-large SW groundswell building late Thu with NW tending variable winds, peaking Fri AM with gusty N/NW winds
Recap
Fun. lumpy surf with variable winds across most regions yesterday morning along with easing swell from Monday, down from 3ft on the sets across the Surf Coast, 4-5ft to the east.
Today we've got even smaller surf on the coast, back to the 2ft range on the Surf Coast, with 3ft sets to the east and variable winds again created OK conditions across both regions, best on the beaches to the east.
Into this afternoon a mix of small, inconsistent background swells are due as winds freshen from the S/SE.
This week and next (Sep 16 - 24)
This afternoon's mix of background swells isn't due to provide much size at all across the state, with the best generated in our far swell window over the weekend. Sets to an inconsistent 2ft are due to continue with 3ft+ sets to the east. Winds will be moderate to fresh from the S/SE though creating bumpy conditions.
This swell will ease back through tomorrow from a similar size with inconsistent 2ft sets on the Surf Coast and 3ft+ sets to the east with similar winds. Light E-E/NE winds are due to the east ahead of moderate to fresh S/SE sea breezes, with the outside chance of variable winds along sections of the Surf Coast, but lumpy and not ideal.
Come Friday the surf looks similar in size with more background energy from the south-west of Western Australia but conditions should be clean all day on the exposed beaches with a strong and at times tricky N/NE breeze.
Into the weekend some better, bigger and stronger swell is due across the state, with the first for Saturday produced by a broad and strong polar frontal progression in the Heard Island region last Sunday and Monday.
This swell will be inconsistent but we should see good 3ft surf on the Surf Coast with 4-5ft sets to the east as winds shift fresh NW, strengthening from the W/NW through the afternoon as a mid-latitude low pushes in from the west.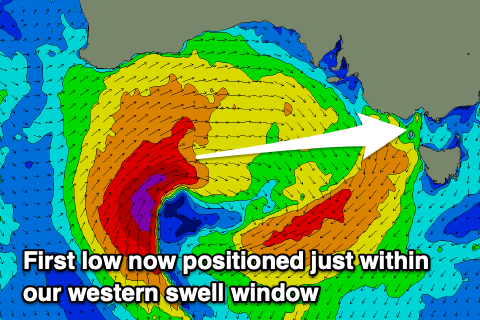 As touched on in Monday's notes, we'll see a slow moving mid-latitude low forming south of Western Australia, then slipping east-southeast from the the Bight and through our swell window Friday and Saturday.
The low now looks a bit better aligned for swell generation and further south in position, with an initial fetch of gale to severe-gale W/SW winds falling within our western swell window, weakening while pushing in and across us Saturday evening.
This will generate a strong pulse of W'ly groundswell for Sunday morning, coming in at 4-5ft on the Surf Coast and 6-8ft to the east. Winds will be great all day though strong from the N/NW tending NW as a secondary low fires up and pushes towards us Sunday. The swell is also likely to ease slowly into the afternoon.
This secondary low will be stronger, broader and a little further south, better aligned in our swell window, generating a fetch of gale to severe-gale W/SW winds on top an active sea state Saturday and Sunday, pushing across us Monday.
This will bring a larger W/SW groundswell that's due to build later Monday, reaching 6ft+ on the Surf Coast and 8ft+ to the east, peaking Tuesday morning to 6-8ft and 8-10ft respectively.
Looking at the local winds and strong W/NW breezes will shift W'ly as the front pushes across us Monday, with building surf all day, likely from the 4ft range on the Surf Coast and 6ft+ to the east, with Tuesday seeing strong W/SW winds (likely W/NW early on the Surf Coast).
This will favour protected spots, with Wednesday likely to see less favourable SW breezes (possibly W'ly early on the Surf Coast) as Tuesday's swell eases off gradually.
Into the end of the week we've got a new pulse of moderate to large SW groundswell due along with more favourable winds.
This will be generated on the back of the dual lows, with a developing polar low south-west of Western Australia due to generate a great, severe-gale fetch of pre-frontal W/NW winds (possibly storm force at stages), with post-frontal W'ly winds under the country as it pushes further east.
The swell might arrive later Thursday (when NW tending variable winds are due) but a peak is expected Friday morning to the 4-6ft range on the Surf Coast and 6-8ft to the east with fresh to strong N/NW breezes ahead of a trough. We'll have a closer look at this and early next week's swell again on Friday though.