Good run of surf from Friday
Victorian Surf Forecast by Craig Brokensha (issued Wednesday 19th May)
Best Days: Friday through Monday, Tuesday selected spots working the winds, Wednesday Surf Coast
Features of the Forecast (tl;dr)
Good mix of new SW groundswell and close-range swell Fri with local offshore winds, tending N/NE
Easing surf into Sat AM ahead of a new reinforcing swell for the PM with similar winds to Fri
Mix of SW and W/SW swells Sun with fresh N/NE tending NE winds, easing Mon with strengthening NE winds
Inconsistent W/SW groundswell building Tue with strong N tending NW winds, easing Wed with fresh W/NW winds
Recap
Pumping surf west of Melbourne yesterday with a slowly easing S/SW groundswell from 4-5ft with all day offshore winds, decent to the east in selected spots as well.
This morning the swell has almost halved in size but conditions are favourable with 2-3ft waves on the Surf Coast and fun 3-4ft waves to the east.
This week through Monday (May 20 - 24)
We'll see the surf continuing to ease in size through this afternoon and evening, bottoming out tomorrow morning with a moderate to fresh N-N/NW breeze. It'll be only for the keen with infrequent 2ft sets left on the Surf Coast magnets, 3ft or so to the east.
An afternoon SW change is due along with a mix of building swells late in the day that are due to peak Friday.
The two seperate swell sources, that being a tight though expanding polar low and then strengthening low directly south-west of us tomorrow have both been upgraded slightly.
The polar fetch was a touch stronger and longer-lived than forecast on Monday with a great fetch of W/SW gales projected through our south-western swell window, south of WA yesterday. This swell should provide 3-4ft surf on the Surf Coast Friday with 5-6ft sets on the Mornington Peninsula.
The close-range swell will likely fall slightly under the size of the SW groundswell, with a deepening low tracking too quickly east and forming late in our swell window. A brief burst of strong to gale-force W/SW winds are expected tomorrow in our south-western swell window (west of Tassie), gone by the evening.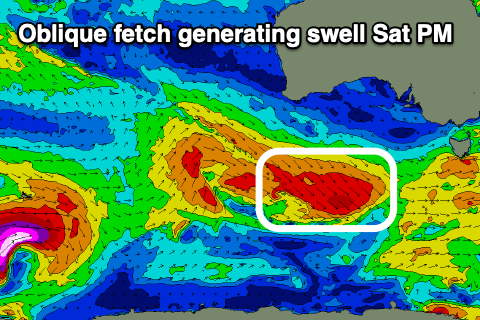 Looking at the winds for Friday and local, light-moderate offshore breezes (N/NW Surf Coast, N-N/NE Mornington Peninsula) should open up plenty of quality options in the morning with winds due to swing more NE into the late afternoon.
Winds on Saturday look to play out similar with the mix of swells easing back from 2-3ft and 4-5ft respectively west and east of Melbourne. Into the afternoon some new SW energy is expected, generated by a good pre-frontal fetch of strong to gale-force W/NW-NW winds pushing obliquely (not ideal) through our swell window tomorrow, from under WA.
This will then be followed by weaker but better aligned W/SW winds Friday under WA, with this swell filling in Sunday.
Saturday afternoon's pulse should keep 3ft sets hitting the Surf Coast magnets, 5ft to the east with the W/SW swell for Sunday likely to come in more around 2-3ft and 3-5ft respectively.
N/NE tending NE winds will favour the beaches all day Sunday, with Monday playing out similar with strengthening NE winds as the W/SW swell eases.
Next Tuesday onwards (May 25 onwards)
A good, long-period W/SW groundswell is due to fill in Tuesday next week, generated by a strong polar low firing up around the Heard Island region tomorrow morning.
This will be in our far swell window but with storm-force W/SW winds projected towards us until Friday afternoon, we should see a moderate sized, long-period swell generated.
The remnants of the low will project up into WA and then the Bight, resulting in the formation of a slow moving mid-latitude low that will squeeze a strong high in the Tasman Sea as it moves east. This will bring strong N tending NW winds on Tuesday as the swell builds, with a peak due into the afternoon. The Surf Coast should reach a very inconsistent 3-4ft across the magnets, much smaller in protected spots due to the direction with 5-6ft+ sets on the Mornington Peninsula.
The swell will then ease Wednesday with W/NW winds as the mid-latitude low pushes east, but we'll have a closer look at this Friday.