Wednesday, 13 May 2020
Swell a plenty and favourable winds
Victoria Forecast by Craig Brokensha (issued Wednesday 13th May)
Best Days: Surf Coast tomorrow, Friday both regions, Saturday morning both regions, Sunday Surf Coast, Monday through Wednesday next week
Recap
A drop in swell yesterday though still hanging in at 2ft to occasionally 3ft on the Surf Coast magnets, 4ft to the east with morning N'ly winds, shifting more N/NW through the day.
Today our new W/SW groundswell has filled in with 3ft+ waves on the Surf Coast magnets and 5-6ft sets to the east, but conditions were a little suss with early light W'ly winds ahead of a SW change.
This week and weekend (May 14 - 19)
Today's inconsistent W/SW groundswell will hold all day, easing through tomorrow, but a new reinforcing mid-period SW swell maye show later today, but peak tomorrow morning.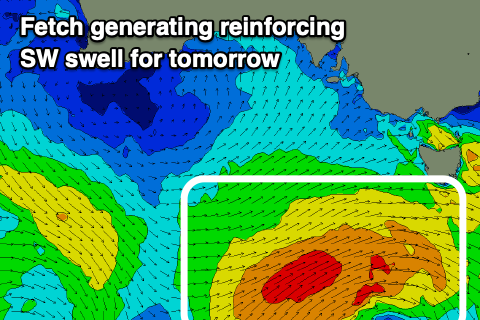 The swell has been generated by the remnants of the frontal progression linked to today's swell, with it re-intensifying south-west of us yesterday, projecting a fetch of strong to gale-force winds through our south-western swell window.
More consistent 3-4ft sets are due on the Surf Coast tomorrow morning, 5-6ft to the east before easing through the day and dropping further from 2ft+ (3ft sets still at magnets) and 4ft+ respectively Friday morning.
Conditions will be favourable for protected spots tomorrow with a light W/NW offshore, tending variable ahead of possible weak sea breezes.
Friday looks cleaner across the exposed beaches now with a morning N'ly breeze, tending N/NE and then variable into the afternoon with NW tending E/NE winds on the Surf Coast.
Moving into Saturday a small reinforcing W/SW swell should stop the size easing further, generated by the first in a conveyer belt of cold fronts moving in from the west from tomorrow. This won't be especially strong and will generate a tight burst of strong to gale-force W/NW-W/SW winds, keeping the Surf Coast around 2ft with 3-4ft sets on the Mornington Peninsula.
Conditions look favourable for both coasts with a moderate N/NW'ly on the Surf Coast, N-N/NW on the Mornington Peninsula, tending NW into the afternoon.
From Sunday through Wednesday next week we'll see better pulses of W/SW groundswell, with the models aligning with EC resulting in no major spike in size through this period.
Multiple mixed fetches of gale-force W/NW winds will move through our medium-range swell window, west-south-west of WA, with embedded lows generating bursts of stronger severe-gale winds.
The progression will weaken when moving under the country Friday, with some new inconsistent W/SW groundswell due from this flurry Sunday, building through the day. Building sets to an inconsistent 3ft are due across the Surf Coast Sunday, 4-5ft+ to the east, better Monday and to 3ft+ and 5-6ft respectively.
A stronger and more consolidated front projecting gale to severe-gale W/SW winds on the back of this progression through our western swell window, south-west of WA should generate a better W/SW groundswell for later Monday and Tuesday morning. Sets to 4ft are due on the Surf Coast, 6ft+ to the east, easing slowly from Tuesday afternoon, further Wednesday.
Now, with activity staying some distance from us, we'll see favourable winds through this period. Sunday looks good with a light NW tending variable breeze, if not for weak SE sea breezes, but into next week local offshores are due each morning (N/NW Surf Coast, N/NE to the east), tending N/NE Monday afternoon, N-N/NE Tuesday with stronger N'ly winds on Wednesday. We'll confirm this Friday though.