Monday, 6 April 2020
Swell easing from tomorrow with average conditions
Victoria Forecast by Craig Brokensha (issued Monday 6th April)
Best Days: Desperate surfers tomorrow, exposed beaches for the keen Thursday (smaller than the charts show)
Recap
Small and clean waves on the Surf Coast Saturday morning, building later in the day though biggest yesterday with bumpy and choppy conditions and moderate to large amounts of swell. Protected spots were the pick.
Today we've got cleaner though still raw-ish waves on the Surf Coast, easing back from 3-4ft, with choppy 5-6ft waves to the east. A new S/SW swell is due this afternoon, discussed below.
This week and weekend (Apr 7 – 12)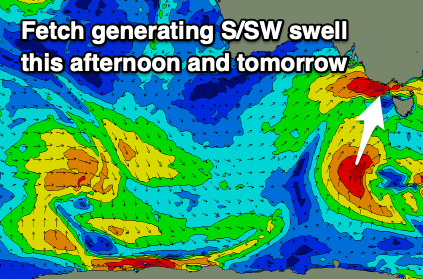 The weekend and this morning have played out to plan, though winds have hung in a little better than expected across the Surf Coast this morning.
We've got one final pulse of good sized S/SW groundswell due later today and tomorrow across the state, generated by a good fetch of S/SW gales produced south-west of Tassie yesterday.
A moderate sized S/SW groundswell should kick in from this source, with it due to arrive this afternoon and provide easy 4ft sets on the Surf Coast and 6ft sets to the east, easing back through tomorrow from 3-4ft and 5ft+ respectively.
Unfortunately winds will be onshore and moderate out of the S/SW, with only the slimmest of chances of an early W'ly on the Surf Coast. Expect bumpy though workable waves all day if you lower your expectations.
Wednesday will be poor as a strong high moves in from the west, squeezed by an inland surface trough to our north-east, directing fresh S/SE tending SE winds into the coast.
Come Thursday winds are expected to shift back to the E/NE early, N/NE later morning and then likely holding E into the afternoon, but size wise, we'll see the S/SW swell continuing to ease, while an inconsistent long-period groundswell showing an uptick on the charts won't have any decent size to it, generated by a low that was south-east of Madagascar late last week!
So ignore the uptick in size on the forecast charts, instead we're only expecting small and inconsistent 1ft to maybe 2ft on the Surf Coast, 2ft to possibly 3ft to the east if we're lucky.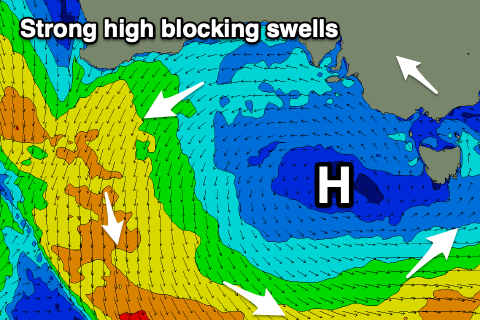 Friday will see winds more out of the N-N/NW with no new swell, tiny on the Surf Coast and becoming wind affected on the Mornington Peninsula with easing 2ft sets.
The lack of swell will be linked to the strong high moving in over the coming days, with it putting a block across the Southern Ocean.
This is expected to be moved on later week by a strengthening polar frontal progression late in our swell window, falling under the influence of a strong node of the Long Wave Trough developing across New Zealand.
The charts are showing an increase in swell Saturday but this is being sourced from a fetch of NW gales, not aligned favourably at all for our swell window. Instead a cold front following this and pushing in Saturday is likely to bring a close-range increase in swell, though the models diverge surrounding this and a follow up system.
In either case it looks like we'll see a bit more activity into the weekend with gusty winds from the western-quadrant. We'll have a clearer idea surrounding this on Wednesday though so check back then for an update.