Friday, 2 August 2019
Plenty of options this weekend, building surf late next week
Victorian Surf Forecast by Craig Brokensha (issued Friday 2nd August)
Best Days: Surf Coast Saturday, both locations through Sunday, Surf Coast early Monday, Wednesday
Recap
Smaller surf but nice and clean conditions most of the day on the Surf Coast, bumpy and to 3ft on the sets to the east.
A new mix of swells have filled in today, with the tight and intense low forming late in our swell window providing the biggest kick in size. Satellite observations confirmed a fetch of storm-force winds really late in our swell window, producing a spike in swell this morning to 4ft on the Surf Coast magnets and 6ft to the east.
Today's Forecaster Notes are brought to you by Rip Curl
This weekend and next week (Aug 3 – 9)
Todays mix of swells are expected to drop back in size tomorrow morning (3ft Surf Coast and 4-5ft Mornington Peninsula) with much cleaner conditions on the Surf Coast with a W/NW offshore. Our new SW groundswell for the afternoon is on track, with a great pre-frontal fetch of gale to severe-gale W/NW winds currently moving through our swell window, with a good swell due to spread up and into us.
The Surf Coast should kick back to 4ft on the sets late afternoon, and 6ft to the east as winds shift to the W/SW.
Sunday will see the swell easing from 3ft to maybe 4ft on the Surf Coast and 5ft to occasionally 6ft on the Mornington Peninsula with a NW offshore west of Melbourne, variable from the N/NE into the afternoon and similar east of Melbourne but possibly NW and not great in the morning.
The size will continue to drop into Monday with a persistent NW-N/NW offshore.
Our small pulse of W/SW swell for Tuesday has been bumped back to later in the day and more so Wednesday. This will be generated by a small and intense mid-latitude moving in from the west and dipping across Tasmania Tuesday.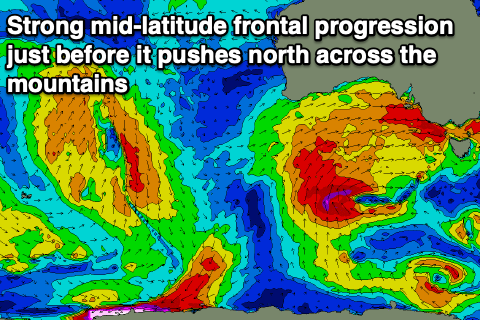 A short-lived burst of W/SW gales are forecast, kicking up a small spike of swell to 3ft on the sets Wednesday morning on the Surf Coast and 4-5ft on the Mornington Peninsula with strong N'ly winds. This will open up plenty of options but some breaks won't be ideal with the stength of the wind.
The strong N'ly wind will be linked to a high-riding mid-latitude front moving in from the west, out of our swell window, but behind this a broader and stronger storm is forecast to develop. We'll see a great initial fetch of gale to severe-gale W/SW winds generated in our western swell window, under the country Wednesday and Thursday, but with a strong negative Southern Annular Mode signal (AAO) the westerly storm track will be pushed too high and we'll actually see the storm project up and over us later next week.
This will bring lots of snow to the mountains, but the swell potential will be limited. It may get large once the whole progression moves across us next weekend, but with onshore winds.
Ahead of this we're expecting an increase in mid-period and windy swell Thursday afternoon as one of the mid-latitude front pushes through, with the groundswell from the earlier developments building Friday and peaking later in the day/Saturday morning.
Winds will be offshore for the Surf Coast and out of the NW though with strength later week, likely swinging onshore at some stage Saturday. It's quite a dynamic and fluid setup so we'll have to review the swell and wind prospects for later next week/weekend on Monday. Have a great weekend!