Wednesday, 13 February 2019
Great tomorrow then less so from Friday
Victoria Forecast by Craig Brokensha (issued Wednesday 13th February)
Best Days: Surf Coast Thursday, dawn Friday keen surfers, beaches mid-late morning Saturday and Sunday morning
Recap
Good clean conditions on the Surf Coast yesterday morning ahead of a strong W'ly change and building W/SW swell which got large into the afternoon with stronger W/SW winds.
This morning it's cleaned right up and is pumping with clean 4-6ft waves on the Surf Coast magnets, fun in protected locations east of Melbourne. The swell should ease a touch through the day as winds shift SW around midday.
Photo from our Torquay report this morning.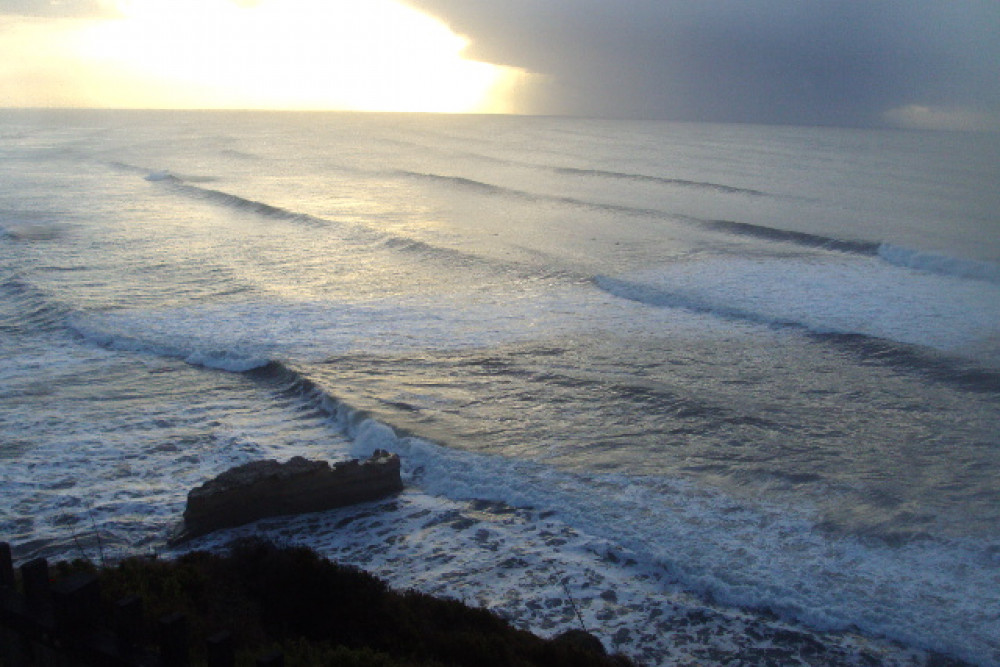 Today's Forecaster Notes are brought to you by Rip Curl
This week and weekend (Feb 14 - 17)
There's plenty more swell to come into the end of the week, even with the passing of the strongest frontal systems under the influence of the Long Wave Trough. One final strengthening frontal system to our south-west today will generate a great broad fetch of strong W/SW winds in our south-western swell window, producing a reinforcing mid-period SW swell for tomorrow afternoon, easing slowly from Friday.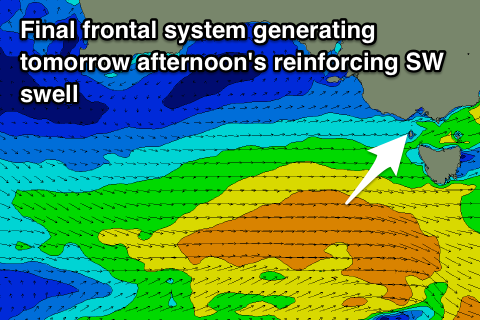 Winds tomorrow will be great for the Surf Coast until mid-afternoon with a moderate to fresh W/NW-NW breeze, tending SW mid-afternoon. Surf to an easy 4ft is expected tomorrow morning, not dropping below 3-4ft into the afternoon, easing from 3ft+ Friday morning. The Mornington Peninsula will be a solid 6ft tomorrow, easing from 4-6ft Friday morning.
Winds on Friday are dicey and most locations will see a moderate SW tending S/SE breeze, but the Torquay region will likely see a dawn W'ly.
Saturday will remain less than ideal but should improve across the beaches to the east with a dawn E/SE breeze, tending lighter E and possibly even E/NE ahead of sea breezes.
There should still be good amounts of swell with easing 4ft+ sets, 2ft+ on the Surf Coast.
Sunday will be smaller and winds look more light and variable, creating clean though not perfect conditions. There's a new groundswell signal showing in the charts, but this is from a very distant source and won't offer any additional size. Instead the Surf Coast is expected to continue easing from a small 2ft with 3ft to maybe 4ft sets on the Mornington Peninsula.
As touched on last update, we may see a slow moving storm developing south-west of WA and pushing slowly towards us through the weekend and early next week, followed by better secondary fronts. If this eventuates we'll see the surf building again from Tuesday next week but not to the size or quality of this week. More on this Friday.