Friday, 12 January 2018
Clean small waves tomorrow morning, onshore until mid-week with a new swell
Victoria Forecast by Craig Brokensha (issued Friday 12th January)
Best Days: Surf Coast Saturday morning, both regions Wednesday morning and Thursday
Recap
Plenty of swell continuing across both regions yesterday morning with pumping 3-5ft surf on the Mornington Peninsula and fun 2-3ft sets across the beaches on the Surf Coast.
A final pulse of reinforcing SW swell due yesterday afternoon and this morning has come in a little under expectations but conditions are excellent for the beaches with a hot offshore northerly breeze. Our change has now been pushed back to the late afternoon so conditions should be good most of the day.
Today's Forecaster Notes are brought to you by Rip Curl
This weekend and next week (Jan 13 - 19)
The weekend isn't looking too flash at all with today's swell expected to ease back into tomorrow morning (mixed in with a small weak W/SW swell) along with a morning W/NW breeze, giving into a change late morning/midday.
We're only looking at 2ft surf on the Surf Coast, with poor 3-4ft sets to the east.
This change will be linked to a strengthening low to our west, which will dip south while aiming a tight fetch of gale to severe-gale SW winds in our southern swell window.
A S/SW swell is due to fill in Sunday to the 3ft range on the Surf Coast and 3-5ft to the east, but conditions will be poor with a gusty S/SW wind. There's a slim chance for early W'ly winds around Torquay, but you'd have to be desperate.
The swell will ease through Monday and it looks like onshore SW winds will linger across most spots, though Torquay will likely see and early W/NW breeze with easing 2-3ft sets.
Moving into Tuesday winds look as if they'll tend more E'ly but be variable through the morning as the swell temporarily bottoms out. The beaches east of Melbourne will be the pick and around 3ft or so.
Into the afternoon we should see the beginnings of our long-period W/SW groundswell.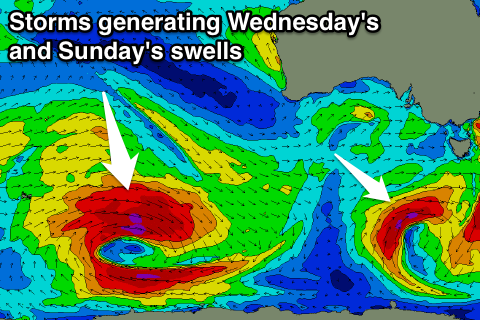 This groundswell is starting to be generated today as two cyclones from the Indian Ocean along with an injection of cold air result in the formation of a 'bombing low' in the Southern Ocean.
We're expected to see a fetch of severe-gale to storm-force W-W/NW winds generated in our swell window today, persisting tomorrow morning as the low stalls and slowly weakens. We'll see the fetch swing a little away from us through Sunday as the low starts moving east, but by then, we'll already have seen a moderate to large sized long-period W/SW groundswell generated.
While the low is some distance away from us, the stalling nature and sustained strong winds will help generate a good swell.
The forerunners are due to arrive Tuesday with an increase in size expected to 2-3ft late in the day on the Surf Coast and 4-5ft on the Mornington Peninsula.
The peak is due Wednesday morning and there's no real change to the expected size, with the Surf Coast due to see inconsitent 4-5ft waves across swell magnets, with 6ft to occasionally 8ft sets on the Mornington Peninsula, easing slowly through the day.
Thursday will be smaller and easing from the 3ft range on the Surf Coast with 4-5ft sets to the east.
Now, winds on Wednesday are still looking favourable and variable for the most part, with local offshores possible, but we'll review this Monday. Thursday looks great with a N'ly offshore tending W/NW into the afternoon with an approaching low.
This low is likely to generate a new swell for next weekend, but more on this Monday. Have a great weekend!