Friday, 25 March 2016
Good Surf Coast tomorrow, large bumpy swell Sunday
Victoria Forecast by Craig Brokensha (issued Friday 25th March)
Best Days: Surf Coast Saturday morning, protected spots Sunday, both coasts for keen surfers Monday morning and possibly Tuesday morning, Wednesday morning both coasts
Recap
Small onshore waves yesterday morning ahead of a strong increase in new SW swell to 3-5ft on the Surf Coast and 6ft+ on the Mornington Peninsula.
The swell has dropped back a touch into this morning, more around 3-4ft and 4-6ft respectively with onshore winds from Barwon Heads east, while the Torquay region has seen a better lighter W'ly.
This weekend and next week (Mar 26 – Apr 1)
There's not too much change to tomorrow's outlook, but Sunday's swell has been upgraded yet again, with large surf due to impact the Victorian coastline.
The last couple of days a vigorous polar frontal system has generated a fetch of pre-frontal and post-frontal gale to severe-gale winds through our swell window.
This has generated two separate pulses of groundswell, the first for tomorrow morning ahead of a slightly stronger pulse through the late afternoon. The Surf Coast should see 3-4ft sets across exposed breaks most of the day, with the odd 5ft bomb into the mid-late afternoon, and 5-6ft waves on the Mornington Peninsula, a touch stronger late.
Conditions will be best in protected locations with a moderate to possibly fresh W/NW offshore ahead of a W/SW change around midday.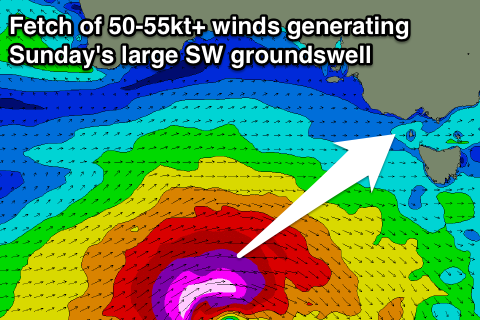 Now, Sunday's strong long-period SW groundswell has been upgraded in size and strength with the mid-latitude low generating it now due to be really intense.
The low is currently developing south of WA, with a fetch of severe-gale W/NW winds due to pave the way for stronger storm-force SW winds to move over, projecting nicely through our south-western swell window.
A large long-period SW groundswell will result, filling in right on dawn Sunday and peaking through the morning/middle of the day to a strong 6-8ft on the Surf Coast with larger 8-10ft surf on the Mornington Peninsula.
Winds won't be ideal though with a moderate to fresh SW'ly expected across all locations, although there's a fair chance for lighter W/SW winds around Torquay early.
Sunday's large long-period SW groundswell should start to ease into the late afternoon, dropping back further into Monday, but a trailing fetch of broad and elongated SW winds behind the low will generate a reinforcing SW groundswell for the afternoon and Tuesday morning.
Size wise, the Surf Coast should still be in the 4-5ft+ range across exposed breaks and 6-8ft on the Mornington Peninsula, easing a touch through the afternoon and slowly Tuesday from 3-4ft and 5-6ft respectively.
Lighter onshore winds are due into Monday morning across both coasts, possibly even tending variable, while the Torquay region should see an early light W'ly breeze again.
Tuesday looks to play out similarly but with slightly less favourable S/SE winds, but we'll have another look at this Monday.
Cleaner conditions are due across both coasts as the swell drops further Wednesday, with some new inconsistent SW groundswell on the cards for later Thursday and more so Friday. This could be followed by some stronger swell next weekend, but we'll have another look at this Monday. Have a great weekend!