Wednesday, 25 March 2015
Fun Surf Coast over the coming period
Victoria Forecast by Craig Brokensha (issued Wednesday 25th March)
Best Days: Thursday Surf Coast, early Friday around Torquay for keen surfers, Saturday/Sunday/Monday Surf Coast
Recap
Poor conditions yesterday with a moderate mix of SW groundswell and building windswell through the day with strengthening onshore winds.
The mix of swells has held in better than expected across the Surf Coast this morning with 3ft sets under offshore winds, while the Mornington Peninsula was a bumpy 4ft or so and in line with forecast expectations.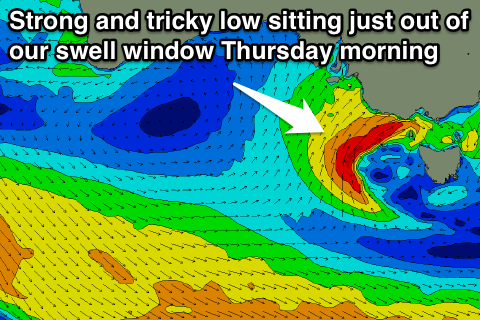 This week (Mar 26 - 27)
Our tricky and complex finish to the week hasn't got any easier, but in short, the Surf Coast will be the best bet tomorrow, with average surf across both coasts on Friday (besides a small window early around Torquay).
Firstly, a good new SW groundswell is due to fill in across the state tomorrow morning, generated earlier this week by a strong polar frontal system south-west of WA.
While a touch inconsistent the Surf Coast should build through the morning to 3ft before lunch, with the odd bigger set likely at Bells/Winki (smaller early) while the Mornington Peninsula should build to the 6ft range by mid-morning.
The models have come into alignment regarding the stalling mid-latitude low to our west through tomorrow, and they've gone the way of my forecast on Monday, that being that the low will stay further west and a touch too north to generate any decent swell for us until late tomorrow afternoon/evening, with a solid but junky windswell due into Friday.
Size wise I don't think we'll see the Surf Coast really get much bigger than what's expected from the SW groundswell tomorrow, with maybe the odd bomb set into the late afternoon/evening. Winds will be fresh and gusty from the NW most of the day, strengthening from the W/NW later towards the evening.
So the protected reefs are looking good from mid-morning onwards.
Friday should be bigger and in the 3-5ft range with 6-8ft sets on the Mornington Peninsula but along with strong and easing SW winds. The Torquay region should see a morning W'ly but the swell will be quite raw and not perfectly lined up.
This weekend onwards (Mar 28 onwards)
Friday's mix of swells will back off into the weekend, but a flurry of strong but unfavourably aligned frontal activity pushing through our swell window through the end of this week should produce fun levels of SW groundswell for Saturday, easing Sunday.
The fetches will be W/NW and aimed more towards the polar shelf, but we'll still see moderate amounts of SW groundswell spreading up radially into us.
This should keep 3ft sets hitting the Surf Coast Saturday, easing from 2-3ft Sunday morning with 5-6ft waves on the Mornington Peninsula Saturday, easing from 4-6ft Sunday.
Conditions will remain average across the Mornington Peninsula with onshore winds, but the Surf Coast should see a morning W/NW'ly Sat morning before shifting S'ly through the day. Sunday looks great on the Surf Coast with a NW tending W/NW breeze ahead of mid-late afternoon onshores, while the Portsea and Flinders areas will be best on the Mornington Peninsula with an early N/NW breeze.
Later Sunday we may see a late pulse of good W/SW groundswell but Monday morning will offer the most size when the swell peaks.
The source of this swell will be a strengthening polar front developing south-west of WA, racing in towards us while generating a fetch of gale to severe-gale W/SW winds.
The speed it races in at isn't ideal but the wind direction and its position in our swell window is great. This should result in a moderate sized W/SW groundswell for Monday coming in at 3-5ft on the Surf Coast and 6-8ft+ on the Mornington Peninsula.
Conditions will be best west of Melbourne again with offshore NW winds ahead of a S/SW onshore into the afternoon, while Tuesday will be better to the east with more variable breezes due as a secondary pulse of SW groundswell fills in. We'll have a closer look at this on Friday though.