Nothing too exciting this week, best Thursday
Victoria Forecast by Craig Brokensha (issued Monday 23rd March)
Best Days: Wednesday morning Surf Coast, Thursday in protected spots on the Surf Coast from mid-morning, dawn Friday for keen surfers around Torquay (swell will be raw and average though)
Recap
Plenty of swell on Saturday but with average onshore winds across the Surf Coast and better E'ly winds on the Mornington Peninsula through the morning but with too much size for the beaches.
Sunday was much better across both coasts with offshore winds and an easing 3ft waves on the Surf Coast and 4-6ft sets on the Mornington Peninsula.
Today a new SW groundswell is filling in, rising from 3ft on the sets across the Surf Coast and 6ft on the Mornington Peninsula under strong N'ly tending N/NW winds.
The swell should continue to build through the day, peaking at 3ft to occasionally 4ft on the Surf Coast 6ft to occasionally 8ft on the Mornington Peninsula as winds swing more W/NW ahead of a late W/SW change.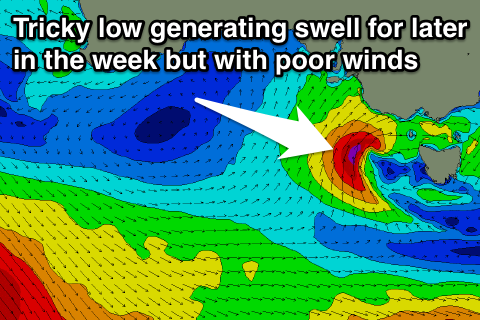 This week (Mar 24 - 27)
Today's kick in SW groundswell should peak this afternoon and ease off through tomorrow, and a reinforcing pulse of S/SW swell from this evening's change doesn't look to have much push to it at all any more.
The front will be relatively weak, with a fetch of strong S/SW winds projected into us overnight, producing a junky 3ft of S/SW windswell across the Surf Coast and 4-6ft on the Mornington Peninsula with fresh to strong but easing S'ly winds.
Wednesday is looking a little dicey now wind wise with variable breezes expected across the Surf Coast, but the Mornington Peninsula may see a lingering SE'ly.
The best bet would be keeping an eye on the local wind observations at Aireys Inlet for the Surf Coast and South Channel Island for the Mornington Peninsula. Size wise the Surf Coast is only due to offer small 2ft+ waves with 4-5ft sets on the Mornington Peninsula.
Into Thursday a new long-range SW groundswell is due to fill in, with it being generated by a polar front today to the south-west of WA. A fetch of W/SW gales will be aimed towards us before the system splits in two with one front pushing up into the Bight and another along the polar shelf.
Nothing significant is expected off this swell with it arriving during the morning Thursday, building to an inconsistent 2-3ft+ on the Surf Coast and 4-6ft on the Mornington Peninsula during the middle of the day.
The tricky thing about this swell and winds is that a strong mid-latitude low is forecast to move in from the west through Thursday but possibly stall just west of Cape Otway through the evening before passing across us Friday.
This has implications for both the local winds and an additional SW swell developing off the stalling low for Thursday afternoon and Friday morning. If the low stays west and north, Cape Otway will block all the swell, but if it's further south we'll see large surf for later Thursday and Friday morning.
At this stage it's a little too tricky to call but we'll likely see W/NW winds through Thursday and then SW winds Friday (W'ly early around Torquay) with the most amount of swell.
Size is also tricky with the Surf Coast likely to come in at 3-5ft with 6-8ft sets on the Mornington Peninsula Friday morning, but we'll have to review this all again Wednesday.
This weekend onwards (Mar 18 onwards)
Saturday should see small levels of easing SW swell with light early W/NW winds on the Surf Coast and onshore S/SW winds to the west.
A fun new SW groundswell from a strong but unfavourably tracking polar low is due Sunday with sets in the 3ft range across the Surf Coast under morning offshores, followed up by some smaller SW groundswells early to mid next week. Longer term though we're likely to see a blocking pattern establish with smaller swells and E'ly winds, but more on this Wednesday.