Friday, 9 January 2015
Window of variable winds Saturday morning the best of it
Victoria Forecast by Craig Brokensha (issued Friday 9th January)
Best Days: Saturday morning, Monday and Tuesday mornings east of Melbourne for desperate surfers
Recap
Winds varied yesterday with a funky surface trough moving through the region with early favourable winds giving way to a light onshore before again turning offshore during the day and persisting into the evening.
The Surf Coast saw 2ft waves across most spots with 3ft sets at 13th Beach, while the Mornington Peninsula offered waves around 4ft.
An onshore change that moved through on dark has persisted into today with tiny and weak levels of swell leaving no quality surfing options.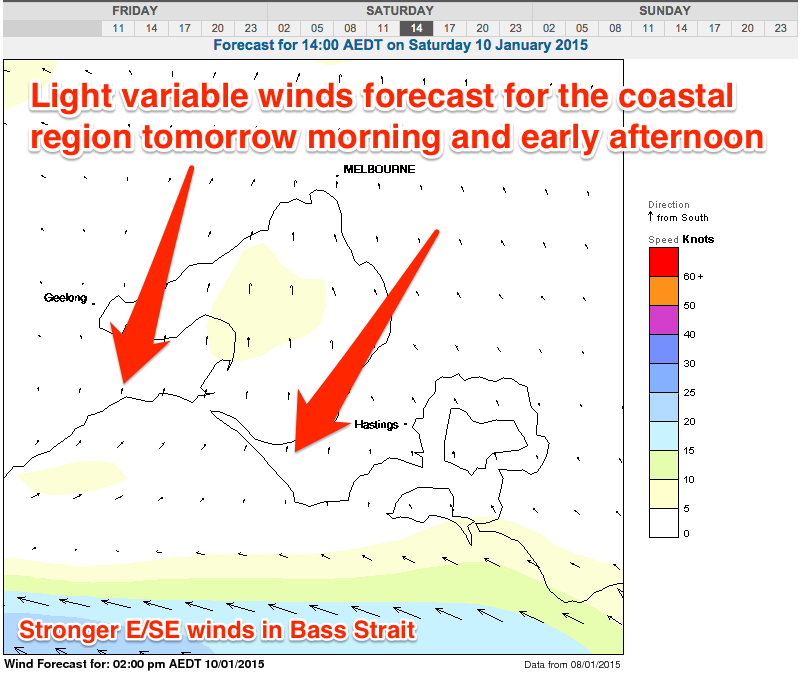 This weekend (Jan 10 - 11)
Tomorrow morning's period of variable winds is still on track, but don't expect perfectly lined up lines of swell as there'll be lots of wobble and lump from overnight onshore winds.
A surface trough reto-grading back to the west should see overnight S/SE winds become variable through the morning as a new SW groundswell peaks to 2-3ft on the Surf Coast and 4-6ft on the Mornington Peninsula.
The beaches east of Melbourne will likely be too big, with the Surf Coast beaches providing the best waves. By about lunch time/early afternoon a strengthening E/SE breeze is due to fill in, so the mid-late morning surf looks to provide the best conditions.
Sunday is still a write-off with easing amounts of SW swell along with some new peaky SE windswell under fresh to strong SE tending E/SE winds.
Monday onwards (Jan 12 onwards)
Winds should swing back to the E/NE Monday morning east of Melbourne but the swell will be small and only around 2ft+ across the Mornington Peninsula, while the Surf Coast will only offer similar amounts of SE windswell.
The rest of the week looks poor, with a period of favourable winds on Tuesday morning due to coincide with little to no groundswell.
We're also likely to see the retro-grading trough pushing back to the east on Tuesday afternoon, bringing onshore winds to the coast from Wednesday through Friday.
Longer term is too hard to really cement down with all the model divergence still around the tropical activity across the country, but check back here on Monday morning for the latest update. Have a great weekend!