OK waves next couple of days, nothing decent till Sunday
Victoria Forecast by Craig Brokensha (issued Monday 24th November)
Best Days: Tuesday and Wednesday mornings on the Surf Coast, Sunday morning east of Melbourne, Monday morning beaches both coasts
Recap
Saturday morning was small and clean across the Surf Coast with 1-2ft sets, while the Mornington Peninsula was the standout with clean 4-5ft waves most of the day. Sunday was poor across both coasts with tiny clean waves on the Surf Coast and larger but bumpy waves to the east.
Today a new mix of long-range and medium-range W/SW groundswell has come in as expected across the Mornington Peninsula with solid 5-6ft sets across the beached, but the Surf Coast was disappointing with only inconsistent 2ft+ sets breaking across exposed breaks, under the forecast 3ft+.
Winds were favourable early morning and have since turned variable ahead of an expected SW change this afternoon.
This week (Nov 24- 28)
Tuesday and Wednesday mornings will be the only decent times to surf and that'll be west of Melbourne.
Today's mix of W/SW swells are expected to be replaced by some more consistent but not overly strong W/SW swell tomorrow and then SW swell into Wednesday as a couple of weak frontal systems push into and across us over the next couple of days.
Tomorrow's W/SW swell isn't expected to offer anything above a weak 2-3ft across exposed spots on the Surf Coast and 4-6ft waves on the Mornington Peninsula, with Wednesday holding a similar size as the SW swell fills in through the day.
Winds will be best west of Melbourne each morning and from the W/NW (tending NW at times) before shifting onshore late morning. Wednesday's onshore change will related to a trough pushing across the region and with this we'll see lingering onshores into Thursday from the S/SW as the SW swell eases and then S/SE Friday.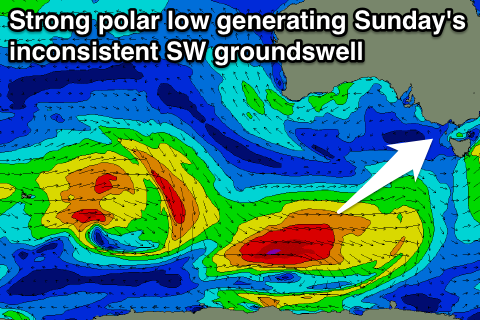 This weekend onwards (Nov 19 onwards)
If you're looking to surf over the weekend, Sunday looks to be the day with a new long-range SW groundswell filling in under favourable NE winds for locations east of Melbourne.
Saturday won't be too flash at all with small weak levels of easing swell and E/SE winds. If you're desperate try the southern end of the peninsula.
Sunday's new SW groundswell looks to be a touch too big for the beaches along the Mornington Peninsula, generated by a vigorous polar low skirting around a strong blocking high sitting to our west. The size of the swell looks to be in the inconsistent 5-6ft range on the Mornington Peninsula with 2-3ft sets on the Surf Coast, but that inconsistency will help those trying to avoid bomb sets on the head.
This swell is due to peak Sunday morning and ease off through the day but the afternoon will become bumpy with onshore SE winds.
Into next week Sunday's swell will ease off under favourable N/NW winds for the Surf Coast Monday but there isn't expected to be any major size above 2ft on the sets.
For the rest of the week there's nothing too significant besides long-range pulses of groundswell as winds swing back to the eastern quadrant, but more on this Wednesday.