Great week with large swells and lots of snow
Victoria Forecast by Craig Brokensha (issued Monday 23rd Jun)
Best Days: Wednesday, Thursday, Friday, Saturday morning, Sunday morning,
Recap
Exposed spots offered the best waves across the state on the weekend with small to moderate levels of W/SW groundswell and offshore winds generally from the N'th.
Today the swell has bottomed out and is effectively flat on the Surf Coast, while the Mornington Peninsula had a touch more size but conditions were poor with strong to gale-force N'ly winds.
This week (Jun 23 - 27)
Tomorrow's swell has been upgraded since late last week (but will come in under model forecasts), with the vigorous mid-latitude storm moving in from the west now expected to slam into us with force tomorrow morning.
This system is currently deepening while moving in across SA as the surface front feeds off a deep pool of cold air in the upper atmosphere (this is what will bring good dumps of snow to the alps).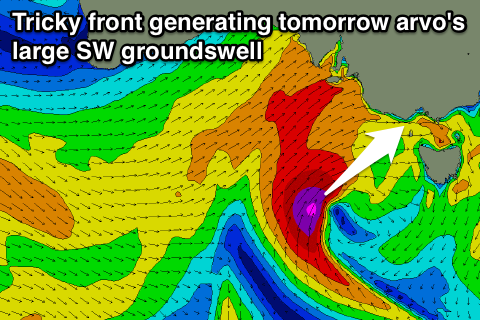 From early this morning a fetch of severe-gale S/SW tending SW winds will be projected up into us before pushing through mid-late morning tomorrow (right). If this front were a touch more west we'd see the fetch cut-off and a much smaller swell would result.
With this front we'll see a large kick in SW groundswell as well as localised W/SW windswell, and this is where the models are coming unstuck.
When there's a mix of different swell trains in the water, the Wave Watch model sometimes finds it hard to resolve each one and instead combines them. This is what is happening tomorrow afternoon on the forecast charts, with the windswell and groundswell combining and giving a false and higher than expected forecast.
What we're likely to see is the Surf Coast kicking to 6-8ft through the afternoon with larger 10-12ft waves on the Mornington Peninsula.
Winds will be an issue though with a strong NW'ly through the morning (before any real swell hits) gives way to a strong to gale-force W/SW change through the day.
A quick drop in size is due overnight, but a secondary frontal system moving through early morning should keep 4-6ft waves hitting Torquay Wednesday morning with 8-10ft sets on the Mornington Peninsula.
Winds should be great for the Surf Coast though with a fresh to strong W/NW tending NW breeze due to an approaching front as the swell eases a touch into the afternoon.
Personally Thursday/Friday are looking the pick of the week with the arrival of a secondary large W/SW groundswell across the state but with better winds than Tuesday.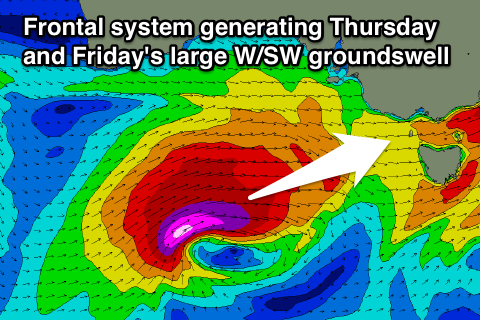 The source of this swell will be another mid-latitude front deepening significantly south of WA Tuesday night and pushing east-northeast towards us while generating a fetch of severe-gale to storm-force W/SW winds (right).
This will generate a large and powerful W/SW groundswell that should build through Thursday afternoon, peak overnight and ease slowly through Friday.
The Surf Coast should pulse to 6-8ft later in the day Thursday, but some short-range swell should fill in before this, while the Mornington Peninsula is likely to kick to 10-12ft.
Friday morning should still be solid and in the 6ft+ range on the Surf Coast and 8-10ft sets on the Mornington Peninsula before dipping through the day.
Now, winds on Thursday should persist from the W/NW in the fresh to strong range for most of the day creating great conditions on the Surf Coast, with even better N/NW winds Friday, creating excellent conditions.
This weekend onwards (Jun 23 onwards)
Yet another large pulse of W/SW swell is due over the weekend but this won't be as good a quality to the one due Thursday/Friday with an initial mid-latitude front racing over from WA and then pushing through across us Saturday.
With the passing front we'll see an increase in SW windswell through the afternoon and onshore winds, with a longer-range W/SW groundswell filling in behind it on Sunday as winds revert back to the W/NW.
Beyond this one more pulse of solid swell is likely Monday but we'll look at this again on Wednesday.