Friday, 20 July 2018
Building south swell from Saturday; pulsing intermittently throughout next week
Sydney, Hunter and Illawarra Surf Forecast by Ben Matson (issued Friday 20th July)
Best Days: Sat/Sun: fun south swell with offshore winds. Tues: possible small SE swell. Wed PM/Thrs/Fri/Sat: small to moderate S'ly swells.
Recap: Wednesday's late arrival of south swell peaked overnight and eased steadily through Thursday though we saw a few trailing sets at south swell magnets early morning. Late afternoon saw the arrival of a completely unexpected mystery swell, with peak periods pushing north of 20 seconds at the Sydney and Port Kembla buoys. The origins of this swell are quite incredible, relative to Southern NSW's swell window: an intense low pressure system in the southern Indian Ocean last weekend (see chart below) that generated one of the biggest Southern Hemisphere swells this year (though it may be superseded next week), lighting up West Oz with massive 25ft+ storm surf Tuesday, large clean waves throughout South Oz Wednesday and clean 6-8ft lines across the Torquay reefs Wednesday afternoon. This swell also concurrently provided very large waves to Indonesia on Thursday, allowing the Rip Curl Cup at Padang to finish. The source fetch developed SW of WA - that's right, well to the west of Perth longitudes - and was aligned outside of our swell window, but it appears that the magic numbers were just enough for a small percentage of energy to refract and diffract through a narrow portion of the Southern NSW swell window (indeed, many parts of the East Coast didn't pick up this every at all). Simply put, this region is not actively monitored for swell potential in Southern NSW! Set waves pushed 3ft at south swell magnets late Thursday though eased overnight and into today, leaving us with small leftovers and freshening N'ly tending gusty W'ly winds as a strong front crossed the southern part of the state. Wave heights are now tiny across the coast.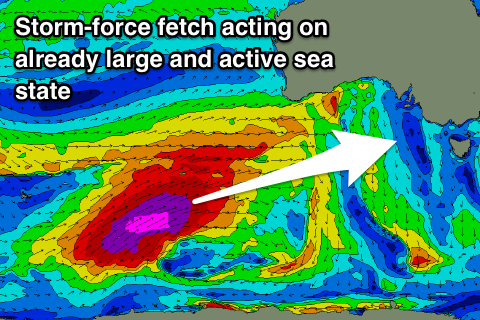 This weekend (July 21 - 22)
Today's Forecaster Notes are brought to you by Rip Curl
We've got a bog standard south swell ahead for the weekend.
A cold front crossing the region today will swing into our south swell window overnight, and we'll see building southerly swell through Saturday before wave heights peak late afternoon and then ease into Sunday.
Most south facing beaches should pick up 3-4ft sets at the height of the swell, with the Hunter seeing a few bigger waves near 4-5ft, and conditions are looking generally clean with moderate W/SW winds early Saturday easing through the day and becoming light and variable for Sunday. There's a chance for afternoon sea breezes both days (more so Sunday than Saturday).
As per usual, beaches that don't face directly to the south will be much smaller, but there'll be plenty of waves up and down the reliable swell magnets all weekend. Get into it!
Next week (July 23 onwards)
The weekend's south swell will ease through Monday.
However a minor SE swell is expected to fill into the South Coast later Monday and then the Sydney region overnight, offering a potential window for small waves early Tuesday.
This energy will be sourced from a brief interaction between the current front sliding east through the Tasman Sea on Saturday, and a small polar low well south of New Zealand (see below). This is expected to strengthen a S'ly fetch below New Zealand in the early hours of Sunday morning, however it won't have enough length nor last long enough to generate any notable size. A handful of swell magnets may pick up some occasional 2ft, maybe 2-3ft sets if we're lucky (early Tuesday) but in general we'll push through the middle of the week with minor residual southerly swells. Freshening NW tending W'ly winds will keep the coast clean through this time as a series of vigorous fronts push through the Bight.

As these fronts exit eastern Bass Strait into the early hours of Wednesday morning with W/SW gales, we'll see an acute south swell build across south swell magnets late afternoon and into Thursday. Early estimates are for occasional 2-3ft sets at south facing beaches, reaching 3-4ft+ across the Hunter.
Looking further ahead and more Southern Ocean fronts are expected maintain a consistent push into the lower Tasman Sea, which suggests an extended period of at least moderate plus south swell through the end of next week and into the weekend too.
Have a great weekend, see you Monday!