Wild conditions peaking on Thursday
Sydney, Hunter and Illawarra Surf Forecast by Guy Dixon (issued Wednesday September 23rd)
Best Days: Early Thursday morning at protected spots, Monday.
Recap:
Tuesday was a fairly uneventful day surf wise across the Illawarra, Sydney and Hunter coasts. The early session offered small weak leftovers in the 2ft range (bigger along the Hunter) with light winds allowing for generally clean conditions. A gusty southerly change soon moved up the coast however, causing conditions to deteriorate pretty rapidly. Then by about 11am, all coasts were torn up, however it didn't matter too much because this this signalled the beginning of a much more exciting large swell event.
The swell increased late in the day to around 3-4ft and has continued to build strongly throughout today. As of this afternoon, most south facing coasts are in the 6-8ft range - and getting bigger - with strong/gale force winds lashing the region.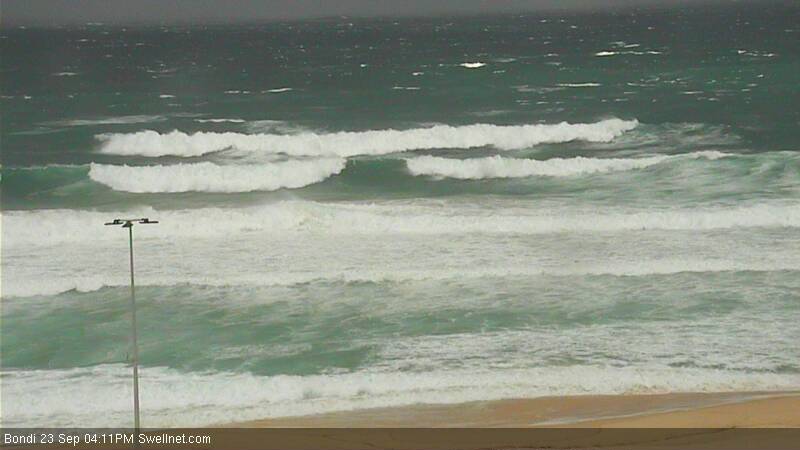 Big set at Bondi Beach, 4:10pm Wednesday
This week (Thursday 24th - Friday 25th):
The system which we have been anticipating all week seems to be well on track. A strong cold front which moved over the nation's southeast yesterday encountered a separate system residing over New Zealand's North Island setting up a blocking pattern.
This blocking set up has resulted in a near stationary Tasman Low and and a very tight pressure gradient extending over the central and southern Tasman Sea. As a result we've been observing 35kt southerly winds across the Tasman for close to 24 hours now. This fetch will intensify and become particularly elongated this evening in a southeasterly/northwesterly orientation creating a captured fetch, well aligned for the northern NSW coast.
We are already seeing the effects of this system, with the surf building to a strong 6-8ft, with more size due this evening. The peak isn't due until Thursday afternoon however where south facing beaches are likely to be in the 10ft range, possibly bigger for the Hunter.
It's all well and good throwing big figures out there and making ambitious plans to try and surf, but conditions are pretty ugly at the exposed spots this afternoon (smaller and cleaner at protected southern corners with pockets of southwesterly winds along the Sydney coast). The Kurnell and Bellambi anemometers have been spinning up to near gale speed this afternoon, with occasional gusts in excess of 80km/h. Thursday is likely to see winds of a similar strength, however models suggest another window of south/southwesterly breezes early, so this will be the best window of opportunity if you're keen to try your luck. Later in the day, winds will straighten up from the south and begin to limit options.
Only the most protected locations will be worth considering for Thursday afternoon, so find a big headland and sit in the lee if you're itching to get wet. This will also wash off some of the size making it much more manageable. South facing beaches will be a write-off, and only good for spectating. Bombies will be firing, but chopped up and treacherous.
Friday will see conditions settle down somewhat, giving rise to the next best opportunity to search for a wave. It'll still be solid, fading to the 6ft+ range by dark but more manageable than the previous days. Fresh southerly winds will continue to dominate all coasts, but the early south/southwesterly option isn't looking as likely. Yes, winds will be lighter than Thursday, but protection will still be key.
This weekend (Saturday 26th - Sunday 27th) and next week:
The weekend will see the swell ease steadily off the back of this large swell event. South facing beaches will offer 3-5ft surf on Saturday morning, fading to around 3ft+ on Sunday morning.
Saturday isn't likely to be anything special under moderate southeasterly breezes, however a weak ridge should have become established over the region on Sunday allowing for lighter winds. There is still some model disagreement regarding wind direction for the weekend, particularly Sunday (south/southwest will make all the difference compared to southeast) but we will be able to pin this down much better in Friday's notes.
A fresh southeasterly swell will begin to impact the NSW coast (particularly southern parts initially) late on Sunday afternoon/evening, more likely Monday morning further north. A small scale low sitting off the West Coast of New Zealand's South Island will be responsible for this swell, generating 35-40kt winds throughout late Friday into Saturday morning. This fetch will weaken on Saturday after, however will extend a small captured further into the central Tasman.
All in all, we should receive a fun pulse of southeasterly swell in the 3-5ft range on Monday morning, slowly easing thereafter. All coasts look to be under a generally light/moderate west/northwesterly airflow on Monday, leading to fun clean conditions, at least in the morning preceding a possible afternoon seabreeze.
Looking further ahead, a weak low is likely to develop over northern parts of the Tasman on Sunday and Monday which will provide some back ground energy in the 2ft range mid-week.