Small surf down South, choppy on the Mid
South Australian Surf Forecast by Craig Brokensha (issued Monday August 8th)
Best Days: South Coast tomorrow morning and Wednesday morning, Thursday and Friday South Coast for the keen, Saturday morning Mid Coast
Features of the Forecast (tl;dr)
Inconsistent, small W/SW groundswell building this afternoon, peaking tomorrow AM
Slightly better mid-period W/SW swell for tomorrow PM with moderate N/NE tending fresh E/NE winds
Easing swell Wed with strong NE tending N/NE winds
Moderate sized W'ly swell for Thu with strong N/NW winds
Reinforcing W'ly swell Fri with stong N/NW winds
Easing W swell Sat with N tending S winds
Recap
A drop in swell across the Mid Coast into Saturday with bumpy conditions and 2ft sets, cleaner yesterday but back to 1-1.5ft. The South Coast saw clean conditions but small surf Saturday morning, better into the afternoon with a new pulse of S'ly. This swell eased back through yesterday with light winds most of the day, best on the magnets.
Today there's a tiny 1ft of swell hanging in on the Mid Coast with slow 2ft sets across Middleton with light winds and clean conditions.
This week and weekend (Aug 9 - 14)
Small and inconsistent. That's the outlook for the South Coast over coming week with wind affected westerly swell energy due on the Mid Coast.
Wind wise, a strong mid-latitude low pushing towards Western Australia today will squeeze against a high, bringing increasing winds over the coming days, lightest tomorrow and moderate N/NE tending fresh E/NE.
Stronger NE-N/NE winds are due to develop on Wednesday, shifting N/NW into Thursday.
Looking at the swell and an inconsistent W/SW groundswell is due this afternoon, peaking tomorrow morning ahead of a secondary, slightly better pulse of mid-period energy into tomorrow afternoon.
These were generated by the same system, that being an initial fetch of W'ly gales as a polar low formed, followed by strong W/SW winds around and just east of the Heard Island region mid-last week.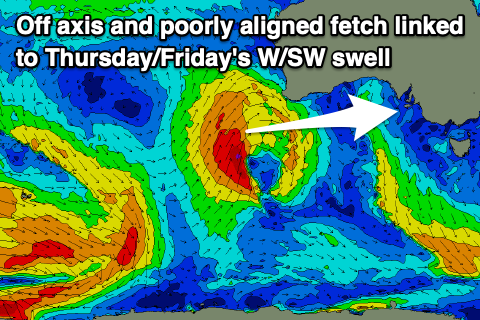 Inconsistent 1-2ft sets are due this afternoon down South and tomorrow morning, 0.5-1ft on the Mid Coast with the afternoon pulse seeing 2ft to possibly 3ft sets across Middleton tomorrow.
Those winds will favour exposed breaks tomorrow and Wednesday, similar Thursday as a new pulse of mid-period W/SW groundswell fills in.
This swell is a tricky one, with it being generated by a strong but poorly aligned low that's currently to the south-west of Western Australia. The fetch is aimed mainly north and not east, with side-band energy from gale-force S/SW winds due to impact the Mid Coast Thursday, coming in at 2ft when it peaks through the day.
Middleton isn't expected to top 1-2ft owing to the west nature of the swell generating fetch.
The W/SW swell should hold 2ft on the Mid Coast Friday (thanks to an additional fetch of W/SW winds through the Bight) and 1-2ft across Middleton as strong N/NW winds persist.
Lighter N winds are due on Saturday morning ahead of a trough and S'ly afternoon change. The Mid looks best with fading 1-1.5ft sets, tiny down South.
Unfortunately there'll be no new swell on Sunday with onshore winds due to linger following Saturday's shallow change along with tiny waves.
So when will this current run of small swells and mid-latitude systems break down?
Unfortunately not into next week, with inconsistent W/SW swells due to persist from the west of Western Australia with varying winds owing to troughy activity in our region. More on this Wednesday.