Oversized south swell for the weekend
South Australian Surf Forecast by Craig Brokensha (issued Friday April 9th)
Best Days: Protected spots tomorrow morning down South, Mid Coast for the keen Sunday, novelty spots down South, Monday morning South Coast, Tuesday South Coast
Features of the Forecast (tl;dr)
Mid-period S/SW swell tomorrow with early W tending W/SW and then SW winds through the day down South
Oversized, long-period S/SW groundswell for Sun with gusty S winds, easing, offshore from the N/NE-NE Mon AM as the swell is still large but easing
Easing S/SW swell Tue with stronger N/NE tending N/NW winds
Recap
The swell eased right back into yesterday down South with 2ft leftovers across Middleton, best on the swell magnets while the Mid Coast was tiny to flat. Today a change has pushed through with some junky, building swell down South, tiny and windswell on the Mid.
This weekend and next week (Apr 10 - 16)
The front linked to yesterday evening's change should produce a fun, mid-period S/SW swell for tomorrow coming in around 3ft across Middleton, while the Mid Coast comes in at 0.5-1ft, only suitable for beginners on the beaches.
Conditions don't look to flash in general tomorrow with a fresh W/SW tending stronger SW breeze as the swell eases a touch through the day. There's a window of W/NW winds expected around Victor in the morning so there should be some fun options early.
We then look at the oversized, long-period S/SW groundswell from the 'bombing' low that's currently slowly weakening while projecting north-east towards us today.
Satellite observations confirm a great fetch of storm-force W/SW winds in our swell window and this will continue today, weakening very slightly over the coming 24 hours as it projects right up and into Tasmania and Victoria tomorrow evening.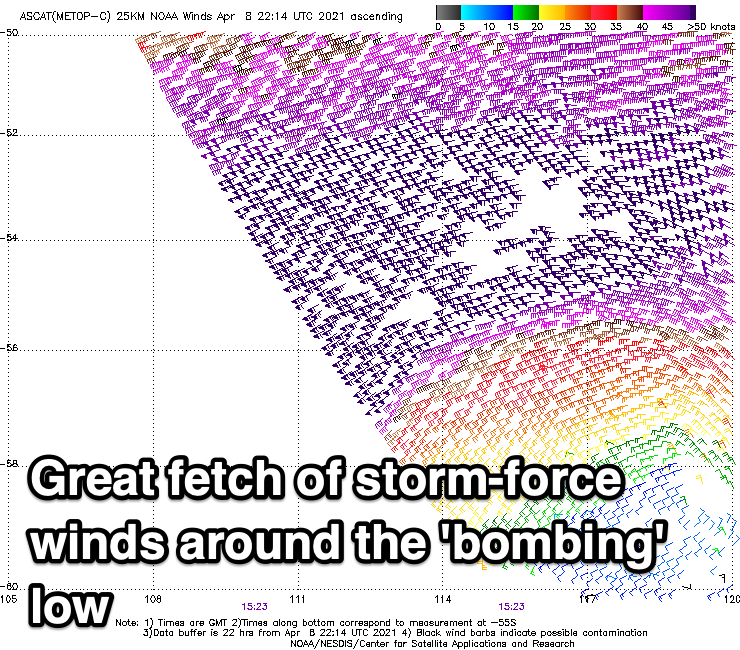 The strength, projection and pace of the storm will see an oversized, consistent and large swell generated, filling in Sunday and peaking through the day to 8ft across Middleton, breaking way out to sea and 8-10ft on the deep water reefs.
The Mid should see sets to 2ft on the favourable parts of the tide. Unfortunately winds will be cross-shore and fresh to strong from the S across the Mid, S/SW tending S down South.
Winds are still expected to swing rapidly around to the N/NE-NE on Monday morning as the swell eases, but it'll be tiny on the Mid and to 1-1.5ft, much better down South with easing sets from 5-6ft or so across Middleton.
Stronger N/NE tending N/NW winds will be seen Tuesday as the remnants of Tropical Cyclone Seroja moves in from the west and the swell will be smaller and fading from 2-3ft across Middleton, tiny on the Mid.
Seroja will be absorbed into the westerly storm track after moving south-east across Western Australia, combining with another mid-latitude low just to its west. The swell potential from both these systems look poor at this stage with each being to meridionally aligned, but more on this Monday. Have a great weekend!