Wednesday, 6 May 2020
Large acute westerly swell inbound, though windy
South Australian Forecast by Craig Brokensha (issued Wednesday 6th May)
Best Days: South Coast keen surfers tomorrow morning and Friday, very desperate surfers on the Mid Coast Friday, similar on the weekend, both coasts Monday
Recap
Tiny on the Mid Coast both yesterday and today, while the South Coast was back to a small 1-2ft yesterday, best at Waits and Parsons with good conditions all day. Today the swell has bottomed out with stronger offshore winds.
This week and weekend (May 7 - 10)
We've got a very dynamic forecast on the cards, with a severe and destructive low that developed west-southwest of WA now tracking east, just south of the WA coastline.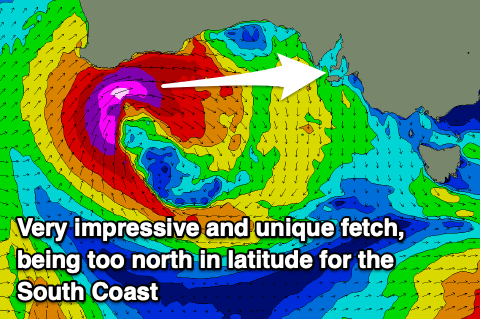 We're seeing a fetch of severe-gale W/SW winds aimed directly towards the Mid Coast, but too north in latitude for the South Coast, which is quite rare. Kangaroo Island will block a lot of the swell for the South Coast, while the Mid Coast will see solid 3-4ft of groundswell on the swell magnets Friday.
Coming quickly back to tomorrow morning though, and a strong though unfavourably tracking low that developed south of WA earlier this week should produce a small spike of long-period S/SW groundswell for the South Coast tomorrow, coming in at 2ft+ off Middleton.
Winds will be tricky and strong from the N/NW tending W/NW, not ideal at all. This will also kick up a building windswell on the Mid Coast to 2-3ft later in the day.
Moving into Friday and the large and powerful W'ly groundswell will unfortunately be met with moderate to fresh W/NW winds will swing more NW and strengthening through the day, creating average to poor conditions but improving waves down South. As touched on though, size wise the W'ly swell will only offer 2ft+ waves off Middleton, 3ft towards Goolwa. Also with the swell being so west don't expect too much size at Waits and Parsons owing to Kangaroo Island.
The South Coast should see more action into the weekend with the arrival of a new SW groundswell Sunday. This will be produced by a secondary mid-latitude front pushing in behind the current strong low and then forming itself into a low, but south-southwest of the state.
The mid-latitude front will push across us Friday evening and Saturday morning, keeping the Mid Coast up and around a choppy 3ft along with strong W/SW winds. The South Coast should see some short-range W/SW swell to 2-3ft off Middleton, building a little further into the afternoon though wind affected and also choppy.
As the low forms though on Friday, a good slow moving fetch of gale to near severe-gale SW winds will be generated through the South Coast's swell window, producing a good pulse of swell to 4ft off Middleton.
The models are over-forecasting the size and incorrectly combining the short-range energy and new groundswell, while looking at the Mid Coast, sets to 2ft to occasionally 3ft should persist.
Winds will unfortunately remain onshore and moderate to fresh out of the SW Sunday, better Monday but with a smaller easing swell.
The rest of the week looks to consist of a couple more fun pulses of SW groundswell, though moderate in size and with varying winds. More on this Friday though.