Friday, 2 August 2019
Fun weekend waves, large and windy surf developing late week
South Australian Forecast by Craig Brokensha (issued Friday 2nd August)
Best Days: Keen surfers Mid Coast tomorrow AM, South Coast tomorrow AM, South Coast Sunday and early Monday, Mid Coast Tuesday
Recap
Small, onshore and poor across the South Coast yesterday, tiny on the Mid Coast with a late increase in new swell not showing with any real vigour.
Today though our mix of swells have peaked with great conditions and 2ft sets on the Mid Coast, 3-4ft off Middleton.
Today's Forecaster Notes are brought to you by Rip Curl
This weekend and next week (Aug 3 - 9)
Today's mix of swells are expected to ease back through tomorrow, dropping from 3ft off Middleton on the sets, 1-1.5ft on the Mid Coast and winds will play out similar to today. An early W/NW breeze will create clean conditions on the South Coast, light E'ly on the Mid, weak onshore into the afternoon.
Our new S/SW groundswell for Sunday morning is on track, with a great fetch of pre-frontal W/NW gales that are currently south of us due to produce a good spread of size for the South Coast.
Middleton should see 3ft sets, easing through the day, while tiny on the Mid Coast. Conditions will be great all day down South with a light to moderate N'ly offshore, swinging N/NW into the afternoon.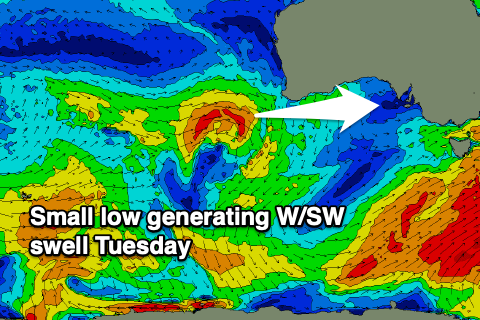 The surf will continue to ease into early next week with persistent N/NW winds, though Monday morning will likely be the only day worth a drive from Adelaide before it gets too small.
A small spike in W/SW swell is due on the Mid Coast Tuesday, produced by a weakening mid-latitude low dipping south-east from a position West of Western Australia. A small burst of strong to maybe gale-force W/SW winds will be generated, kicking up a small swell to 1ft to 2ft on the favourable parts of the tide. Conditions will be OK with local N/NE tending N'ly winds for keen surfers.
As touched on last update, a vigorous mid-latitude frontal progression will fire up into the middle to end of next week, amplified by a strong negative Southern Annular Node event, which sees the westerlies pushed further north in latitude compared to normal.
This will see a strong and cold frontal progression projected up and across us, generating a large, windy and stormy swell event, kicking in from later Wednesday and persisting through the weekend.
At this stage the Mid Coast will get battered by large stormy swells, with protected locations an option down South Thursday and Friday before winds go SW into the weekend. This is quite a fluid and dynamic setup, so check back here on Monday for the specifics. Have a great weekend!