Plenty of good days ahead
South Australian Forecast (issued Monday 16th March)
Best Days: Wednesday down South (Mid into the afternoon), early Thursday down South, late Friday on the Mid, both coasts Saturday morning, South Coast Sunday
Recap
Great morning of waves Saturday with a pumping easing swell down South under offshore winds before a shallow change around midday. The Mid was clean but tiny and around 1ft.
Sunday was a good lay day with smaller amounts of swell and onshore winds down South.
A new pulse of S/SW swell today though has perked wave heights back up and under NE offshores, favouring most locations down South. Winds should remain favourable into the afternoon as they tend back to the E/NE.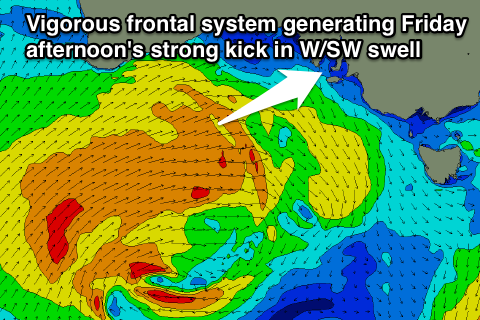 This week (Mar 17 - 20)
Today's pulse of S/SW swell will drop away through this afternoon and further tomorrow leaving small to tiny surf down South, best at Waits and Parsons. Winds will be blowy though and fresh from the NW, tending more W/NW through the afternoon.
A new pulse of S/SW groundswell due Wednesday is still on track, generated over the weekend by a strong polar front pushing along the Antarctic Shelf.
This should provide good but inconsistent 3ft sets across the Middleton stretch and 4ft+ waves at Waits early, easing through the day. Winds will improve through the day with a morning W/NW breeze due to swing more N/NW with an approaching front, likely tending variable into the afternoon.
The Mid Coast should see a little W/SW windswell through Wednesday as a weak fetch of W/SW winds are projected slowly towards us through the Bight this afternoon and tomorrow. Only a small 1-2ft wave is due, and with winds easing into the afternoon, a surf into the afternoon/evening is worth a look.
Both swells are due to ease into Thursday and conditions will be best early with a fresh N/NW breeze ahead of a strong W/SW change through the day.
As touched on last update, a strong frontal system is forecast to push in from under WA and then towards us through the end of the week.
This front will begin south-west of WA initially, projecting a fetch of W/SW gales through our far swell window before pushing through the Bight Wednesday evening, followed by a secondary intensification to our west Thursday, aiming an additional fetch of gale to severe-gale W/SW winds into us.
This should result in two pulses of separate groundswell, one large strong pulse from the W/SW followed by a secondary SW pulse.
Both swells should arrive at a similar time, through Friday and pulsing strongly into the afternoon, peaking overnight and easing Saturday.
The Mid Coast should kick to 3ft Friday afternoon/evening while the South Coast is expected to build to 3-5ft at Middleton late and 6ft+ at Waits and Parsons.
A drop in size is due from 2-3ft Saturday morning on the Mid, while the South Coast should drop from 3-5ft and 6ft+ respectively at Middleton and Waits.
Winds are looking poor Friday as the front pushes through bringing an onshore SW change (although the Mid may see winds tend S/SE late)
Saturday should be fun across both coasts with E/SE offshores on the Mid and a light E/NE'ly down South, but we'll confirm this on Wednesday.