Monday, 23 February 2015
Fun Mid Tuesday, better down South from Wednesday
South Australian Forecast (issued Monday 23rd February)
Best Days: Tuesday on the Mid, Wednesday morning both coasts, Thursday and Friday mornings South Coast
Recap
The South Coast offered clean fun waves all day Saturday with an easing swell and a hot offshore wind that persisted until after dark before a SW change moved through. The Mid Coast was ideal for beginners with tiny clean 1ft peelers.
Winds backed off around dawn Sunday for a very short-period with a smaller swell but the onshore kicked in again around 6am before tending more variable through the day. This made for less than appealing but workable waves for keen surfers.
Today a new SW groundswell is on the build but fresh to strong onshore winds are creating poor conditions down South, while the Mid Coast is a cleaner 1-1.5ft.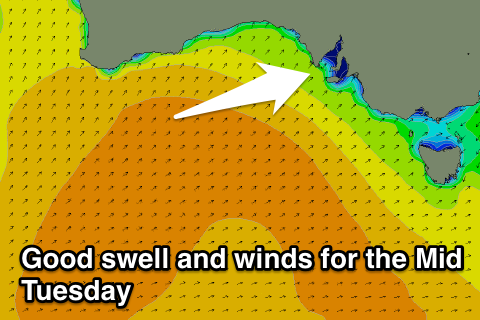 This week (Feb 24 - 27)
Today's building SW groundswell is very inconsistent but strong and should peak this evening across both coasts, but a secondary more consistent mix of SW and W/SW swell are due tomorrow. This swell has and is still being generated by a front that pushed just south of the Bight, with it now weakening to the south-west of us.
The Mid Coast should offer good 2ft+ sets on the favourable parts of the tide tomorrow from this swell, while the South Coast should offer plenty of size to 3-4ft+ at Middleton and 5-6ft at Waits and Parsons but with fresh SE tending S/SE winds, the Mid will be the go.
Both swells should drop away into Wednesday as winds remain favourable for the Mid, and improve for the South Coast with a morning E'ly that may tend E/NE if we're lucky. The Mid is only due to be in the 1-1.5ft+ range while Middleton should be in the 3ft+ range with 4-5ft sets at Waits.
Thursday morning looks better for a wave down South with a smaller swell but cleaner conditions under a light N/NE'ly with exposed spots like Waits and Parsons the go. A slight kick in small SW swell should stop wave heights from easing during the day while Friday will see the swell ease under favourable N/NE winds again.
This weekend onwards (Feb 28 onwards)
Saturday should start out clean down South but tiny and an onshore S'ly change through the morning will persist with strength into Sunday from the S/SE with a fresh increase in junky windswell.
Longer term we should see some better SW groundswell into next week owing to a strengthening node of the Long Wave Trough moving in from the west over the weekend, but we'll look into this more on Wednesday.