Wednesday, 10 December 2014
Longer window of good conditions Saturday morning
South Australian Forecast (issued Wednesday 10th December)
Best Days: Saturday, Sunday and Monday mornings for keen surfers, Wednesday morning on the Mid and down South
Recap
A lighter E'ly wind across the South Coast yesterday morning opened up a small window of clean lumpy waves across the region, and this morning was similar with a lighter W'ly breeze and small 2ft or so of swell. The Mid Coast has been tiny and cleanest through the mornings.
This week and weekend (Dec 11 - 14)
Tomorrow morning will be really poor across the South Coast as a strengthening trough to our east directs strong S/SE winds into the state kicking up a junky windswell that now looks to reach 3-5ft into the afternoon down South. There'll be no quality at all though, so save the petrol money.
Friday will be a touch better but still very poor as winds swing more SE and the S/SE windswell eases from a junky 3-4ft as a result of the trough weakening.
Our window of clean good waves Saturday morning has now widened with an onshore change due shortly after dawn now not being as strong and arriving later.
The new SW groundswell generated by the strong polar low moving over the already active sea state created before it is still well on track, with a good inconsistent 3-4ft wave due across Middleton with 4-5ft+ sets at Waits and Parsons. The Mid should offer tiny 1ft sets.
Winds now should be variable tending locally offshore Saturday morning and remain light until just before lunch ahead of a weak onshore S/SW breeze. Therefore aim for a surf through the morning for the best of it, but the afternoon should still be worth a second surf with the amount of swell around.
Sunday is a little dicey with a light to moderate and lingering S'ly breeze in the wake of Saturday's weak change but Middleton should still be worth a look as the swell eases from the 3ft range during the morning.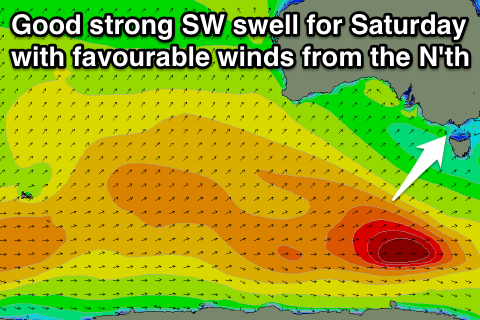 Next week onwards (December 15 onwards)
Monday morning may offer another period of cleaner conditions down South with a very light SW breeze as the swell continues to ease. It won't be great but will be worth a look if you're in the region.
A cold front moving in through the day will bring strengthening onshore winds though and these will persist into Tuesday as a new W/SW groundswell fills in later in the day. The source of this swell will be a strong polar front pushing from the south-west of WA, up towards and through the Bight during the weekend and early next week before crossing us Monday afternoon.
The Mid Coast should see a good swell developing, coming in at 2ft through the day Tuesday but with those onshore winds and easing from a clean 2ft Wednesday morning as winds swing offshore.
The South Coast may see a light E/NE'ly Wednesday morning but we'll review this Friday.