Great down South most of the week, Mid Coast Saturday
South Australian Forecast (issued Monday 28th July)
Best Days: Every until Friday afternoon down South, Mid Saturday, South again Saturday afternoon and Sunday
Recap
The surf was great all weekend down South with persistent offshore winds and a small swell Saturday that build strongly yesterday afternoon but was very inconsistent. The Mid Coast built to an inconsistent 2ft but conditions were poor with a stiff N'ly.
Today the swell has dipped back a little but is still a good 3ft across the Middleton stretch down South with bigger sets out at Waits under offshores, while the Mid is an inconsistent and bumpy 1-2ft.
This week (Jul 29 – Aug 1)
There's lots of swell on the way for the state this week and with good winds for the South Coast right up until a large stormy swell fills in Friday.
Looking towards tomorrow though, and a medium sized W/SW groundswell is due across the state, generated by a vigorous cold front passing under WA yesterday and then under us today.
This swell should provide 2-3ft sets on the Mid Coast but better 3-4ft waves are due at Middleton with 5ft+ bombs out at Waits into the afternoon. Winds should persist from the NW-W/NW all day tomorrow but be strong, limiting the best waves to protected locations down South.
Into Wednesday the W/SW groundswell should continue across the Mid in the 3ft range, but the South Coast should see a stronger SW groundswell pulse into the afternoon, generated by a very strong polar front moving in over the active sea state generated by today's front, but pushing mainly towards Vicco.
We should still see a large SW groundswell developing, arriving later Wednesday to 4-5ft at Middleton and 6ft at Waits as winds persist with strength from the NW all day and even swing N/NW late.
This groundswell is due to ease into Thursday morning from a similar size but the morning will be best as strong to gale-force NW winds give way to a W/SW change. This will kick up a stromy 3-4ft of windswell on the Mid Coast but with strong to gale-force onshore winds.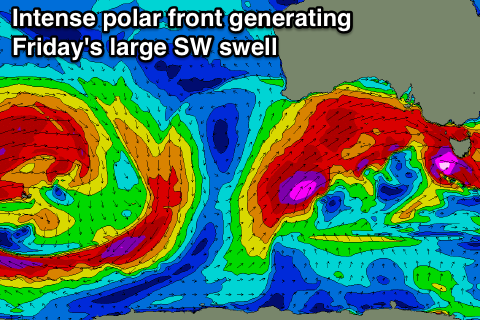 This change will be linked to a very strong polar front projecting straight up into us while generating winds in the severe-gale to sub-storm-force range, producing a large and powerful SW groundswell Friday.
This swell is expected to arrive late in the afternoon, but before this there'll be large levels of windswell across both coasts, to 3-5ft on the Mid while the South Coast is due to be in the stormy 6-8ft range at exposed breaks. The groundswell should offer larger 10ft sets later in the day but with gale-force S/SW winds there'll be no real decent options available.
This weekend onwards (Jul 30 onwards)
Friday's large and stormy mix of windswell and powerful groundswell are due to dip quickly overnight but still be large across the South Coast Saturday morning before easing off more noticeably Sunday.
Middleton should ease from the 4-6ft range with bigger sets near 8ft our at Waits and Parsons but winds will be likely lingering from the S/SE still. A variable breeze may be seen into the afternoon, creating improving conditions. The Mid will be clean though but easing from a small 2ft.
Into Sunday conditions are looking great down South with N'ly tending W/NW winds and a medium sized but easing swell. We'll review this again on Wednesday though.