Average weekend, great next Thursday
South Australian Forecast (issued Friday 13th June)
Best Days: Saturday on the Mid, Sunday afternoon down South, Monday morning down South, Tuesday both coasts, Wednesday onwards down South
Recap
A new W/SW groundswell offered great waves across the South Coast yesterday with 2-3ft sets at Middleton and bigger waves out at Waits and Parsons under a persistent offshore wind.
The Mid Coast saw a pulsing 1-2ft of swell on the various parts of the tide, but the N'ly winds added a few bumps and chops during the day.
Today a slightly stronger SW groundswell is filling in, with a touch more size down South, as the Mid Coast muscled up to a more consistent and peaky 2ft (with a N/NW windswell in the mix). The winds and weather are quite funky as a deepening surface trough moves in slowly from the west resulting in winds swinging from the NE this morning to a more variable breeze through the afternoon ahead of a late and strong S'ly change. Therefore make the most of the current clean conditions across both coasts.
This weekend (Jun 14 - 15)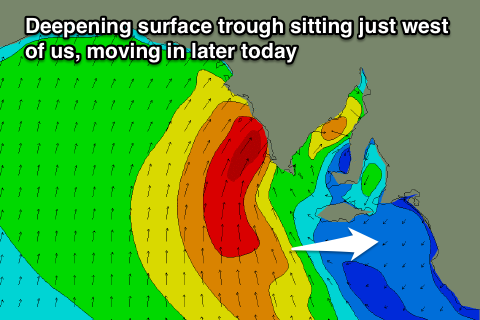 The strong onshore change expected later this afternoon will wreck the start of the weekend, with a junky mix of easing SW groundswell and localised S'ly windswell due across the South Coast with strong but easing S/SE winds. The Mid Coast will be the pick with an easing but cleaner 1-2ft of swell.
Into Sunday a strong new S/SW groundswell is expected to fill in down South, generated by a vigorous polar frontal progression that is now south-southwest of us, but winds initially on Sunday look to linger from the S/SW across the South Coast.
Into the afternoon however we may see winds tend variable as a cold front approaches from the west, creating improving conditions with 4-5ft of swell at Middleton and 5-6ft sets at Waits and Parsons.
Next Monday onwards (Jun 16 onwards)
Monday is looking a lot cleaner, but you'll have to seek out protected spots with a fresh W/NW'ly through the morning ahead of a gusty SW change at some stage after lunch. Sunday's swell will be easing but should still be in the solid 3-4ft range at Middleton and 4-5ft sets out at Waits.
Monday's front will bring with it a fresh pulse of SW swell and this should keep medium sized waves hitting the South Coast into Tuesday morning with 1-2ft waves on the Mid before easing into the afternoon. Winds may linger onshore across both coasts but are likely to tend variable during the morning, creating fun waves for keen surfers.
From Wednesday onwards though conditions looks to become great for the South Coast with a fun pulse of long-range W/SW groundswell on the cards for Thursday. Generally winds from the N/NE with 3ft sets at Middleton and more at Waits and Parsons is due Thursday, making this the day to work around next week.
Longer term there's nothing too major on the cards so make the most of the coming period. Have a great weekend!