Mid Coast Thursday, South Coast Friday and early next week
South Australian Forecast (issued Wednesday 4th June)
Best Days: Thursday on the Mid, Friday down South, Sunday morning for tiny sliders on the Mid and peaky waves down South, Monday and Tuesday down South
Recap
Conditions started a little mixed down South yesterday with a variable wind from the western quadrant, but an afternoon W/NW'ly cleaned up conditions nicely in protected locations. The Mid Coast started off glassy but deteriorated during the day with the onshore W/NW breeze.
Today the swell started small and clean again across both coasts but a strong increase in new W/SW groundswell has been seen on the Cape du Couedic wave buoy with a sharp J-curve visible.
This swell should fill in later this afternoon and pulse to an easy 2ft on the Mid Coast with Middleton pulsing to 3-4ft and 4-5ft at Waits although winds are expected to swing onshore.
This Thursday and Friday (Jun 5 - 6)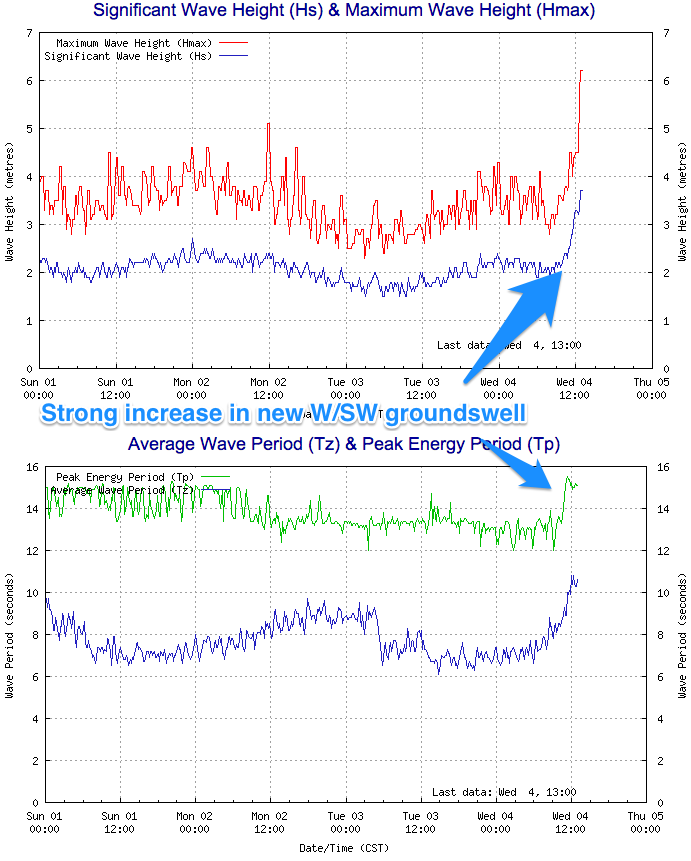 As touched on above, the late increase in W/SW groundswell due this afternoon is on track with Cape du Couedic rising rapidly in size along with a jump in peak period to just under 16 seconds (pictured right).
This swell should peak this evening with a drop in size due tomorrow with the direction swinging more SW. This will be a result of the mid-latitude low generating the swell intially moving through our western swell window before then tracking through our south-western swell window last night.
In saying this the Mid Coast should continue to see 2ft sets tomorrow morning with larger 3-4ft surf at Middleton and 4-5ft waves at Waits and Parsons.
Winds will be good across the Mid Coast tomorrow with a light offshore SE'ly while the South Coast may see a lingering S'ly. Weak SW sea breezes are due across both coasts at some stage so aim to surf through the morning for the best conditions.
The swell should continue to ease through Friday but winds will continue to be favourable with light local offshores due across both coasts ahead of a slightly stronger SW'ly into the afternoon.
This weekend onwards (Jun 7 onwards)
The start of the weekend isn't looking too flash as an onshore change moves through just before dawn Saturday bringing with it fresh S/SW tending S'ly winds.
A new long-range W/SW groundswell should fill in on Saturday though and the Mid may be worth a look late as winds tend S/SE and the odd 1.5ft set sneaks through.
Sunday is looking better as the long-range swell from west-southwest of WA continues to 1-1.5ft on the favourable parts of the tide on the Mid while the South Coast sees a new SW groundswell generated in the wake of Saturday's change. Middleton should offer sets in the 3ft range, while Waits should see bigger 4ft+ waves. Winds should be offshore from the E/SE across the Mid while the South Coast won't be too tidy with a morning E'ly (favouring protected locations).
Monday and Tuesday are looking much better down South with an easing swell and offshore N/NE winds during the morning on the former and all day fresh N/NE winds on the later.
Longer term there's nothing major on the cards until later Friday and more so the following weekend. A strengthening node of the Long Wave Trough is forecast to move in across WA mid next week and with this we should see some stronger and more familiar winter frontal activity.
A series of medium sized plus W/SW-SW groundswells on the cards from next weekend onwards but Check back here on Friday for confirmation of this.