Slow forecast period
Bali and Mentawais forecast​​​​​​ by Craig Brokensha (issued Tuesday 2nd October)
Best Days: Swell magnets tomorrow and Saturday morning, similar Tuesday morning and then Thursday onwards
This week through next weekend (Oct 3 - 12)
Bali: A great though very inconsistent SW groundswell pushed in over the weekend providing large clean surf across the Bukit reefs (shown below) for experienced surfers, easing back into yesterday and further today.
The swell due tomorrow across the region was downgraded last Thursday but has come in a touch above expectations across Margaret River yesterday and this morning, and as a result I've upped the forecast size due across Bali.
The swell was generated by less than favourably aligned pre-frontal W/NW gales, followed by better aligned post-frontal W/SW winds, and we should see south swell magnets building to 4-6ft later tomorrow, easing from a similar size Thursday morning, smaller Friday.
A new long-period S/SW groundswell should build later Friday and peak Saturday morning across the region, generated by a late forming but severe low in our southern swell window, south-west of WA.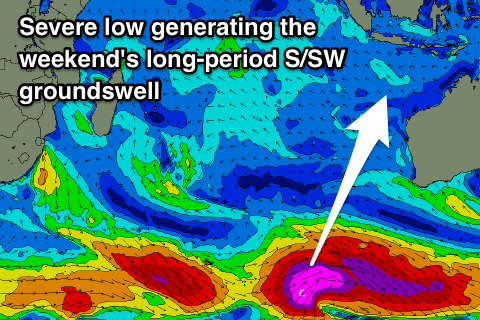 This swell was downgraded a little late last week as well, but the models upgraded the intensity of the storm before it moves east and under Australia, with a quick burst of severe-gale to storm-force W/SW winds generated in our swell window.
I also feel the swell is being under-forecast a bit by the models with the storm being quite significant as show in the chart to the right.
The swell will be south again and build later Friday to 4-6ft at south swell magnets, peaking Saturday morning to a strong 6ft, if not possibly for the odd sneaky 8ft bomb, easing into Sunday.
From here onwards the forecast goes quiet, with no major storms developing in our swell window. Late in the week a distant and inconsistent long-range swell is due, but to no major size, but we'll have a closer look at this Thursday.
Moderate to fresh E/SE trades are due over the coming period, variable each morning with local land breezes, with weaker trades possible through next week as the swell becomes small.
16 day Bali Forecast Graph
16 day East Java Forecast Graph
16 day Sumbawa Forecast Graph
Ments: The weekend's large swell is on the ease and will continue to drop through this evening and into tomorrow morning.
Unfortunately the S/SW groundswells due across Bali, especially the weekend's will be generated too late in our southern swell window with minimal size and consistency due across our region.
The S/SW groundswell for tomorrow afternoon and Thursday looks best, with south facing breaks due to build to 3-4ft+ later tomorrow, easing from 3-5ft Thursday morning, smaller into the weekend.
Small background SW energy looks to fill in Saturday through Monday to an inconsistent 3ft+ max across swell magnets, before easing into the middle of next week.
Longer term some slightly better SW groundswell is due from next Friday, but we'll have a closer look at this Thursday.
Winds over the coming period will start to ease off, but be moderate to fresh from the SE, tending S/SE through this week, more favourable from the E/SE-SE through next week.
16 day Mentawai forecast graph
16 day Nias forecast graph
16 day South Sumatra forecast graph