Windy XL swell Wednesday, easing and slightly better to end the week
Hawaii North Shore, Micronesia and PNG forecast by Craig Brokensha (issued on Tuesday 12th December)
Best Days: North Shore Thursday, Friday, Sunday afternoon and Monday morning, Micronesia Friday and Saturday, Monday through Wednesday, PNG protected spots over the coming week, next week
This week and next (Dec 12 – 22)
Hawaii: Oversized surf on Sunday eased back through today with early favourable winds, deteriorating from the W through the day. Click here for the round up from Round 1 of the Pipe Masters.
Tomorrow will be even worse with fresher W/SW winds and a small leftover swell.
Into the afternoon though we should see the surf starting to build again ahead of an XL swell for Wednesday.
The combination of fronts generating this swell aren't as strong as initially forecast last week, with an initial broad fetch of severe-gale W'ly winds off the Kamchatka Peninsula followed by a secondary front projecting a fetch of NW gales south-east towards us.
This system is weakening while continuing on its path towards us, bringing the poor winds tomorrow.
What we're expected to see is a mix of long-period and mid-period NW groundswell energy arriving mostly around the same time, that being Wednesday.
The surf will be large and chaotic with random double ups and sets in the 20ft+ range across the offshore reefs, along with poor and gusty N/NE tending NE winds.
The swell should ease back through Thursday from 12-15ft, smaller again from 6ft Friday morning.
Winds will remain a little less than ideal but workable and fresh to strong from the NE-E/NE on Thursday and Friday, easing in strength through the afternoon. Longer term we're looking at more distant and moderate-large sized NW groundswell for Sunday/Monday, generated by a a low sitting off Japan and then secondary push south-east from the Kamchatka Peninsula.
The size looks to be in the 6ft to maybe 8ft range, but more on this Thursday.
North Shore Forecast Graph
North Shore WAMs
Micronesia: Small amounts of weak E/NE trade-swell will continue across exposed breaks to the east swell, but with average onshore and gusty E'ly winds.
The trades will strengthen again through the weekend to our east resulting in more size developing through Monday afternoon and more so Tuesday next week, persisting all week and beyond to 5-6ft at exposed breaks.
The inconsistent N'ly groundswell due off the low that formed off the Kamchatka Peninsula the last couple of days isn't likely to provide too much size.
An slight increase is likely late Thursday to maybe 2ft+ at north facing passes, building further Friday to an inconsistent 3ft, holding Saturday and easing Sunday.
A couple of better N/NW groundswell pulses are due later Sunday but more so Monday through Wednesday next week from the low forming off Japan. This swell should come in at a more consistent 3ft, if not a touch bigger at times, fading from Thursday.
Palikir Pass Forecast Graph
Palikir Pass WAMs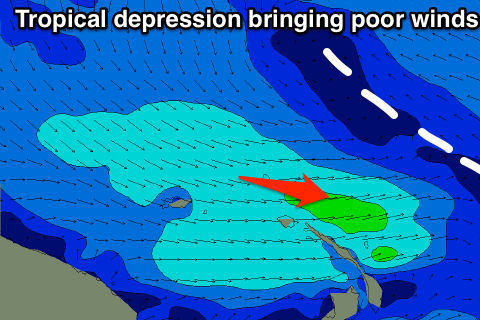 Papua New Guinea: We've currently got poor NW-W winds across the region again from a small tropical depression in the region. This should weaken from Friday afternoon swinging winds SW ahead of a slight re-intensification early next week.
Small levels of trade-swell are expected, coming in at an inconsistent 2-3ft on the sets, building into the middle of next week. There'll also be some W/NW swell from a deepening low and possible Tyhpoon, but we'll have another look at this Thursday.
The N/NW swell off Japan should arrive a few days later across our coast, coming in early-mid next week and reaching an infrequent 2-3ft, before fading Friday.