Friday, 7 August 2020
Average weekend, upgrade in swell early next week
Eastern Tasmania Surf Forecast by Craig Brokensha (issued Friday 7th August)
Best Days: Later Sunday southern corners, Monday, Tuesday, Thursday
Recap
Wednesday's large swell continued to ease off through yesterday with favourable winds for southern corners, dropping from 4-6ft+. Today is smaller again but cleaner and easing from 3ft+.
This week and weekend (Aug 8 - 14)
We'll see the swell continuing to ease through the weekend from a small 2ft or so, bottoming out into Sunday though not likely dropping below 1-2ft.
Winds over the coming days are now looking less favourable as the low forming off the southern NSW coast slips a bit further south than expected, but with this we'll see an upgrade in the NE swell, discussed below.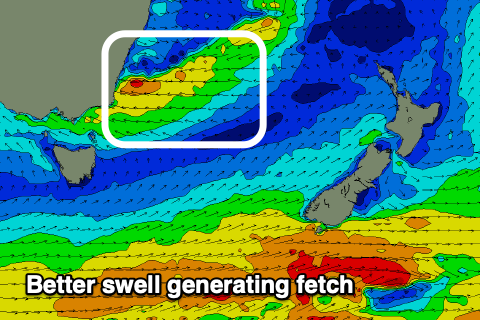 Tomorrow looks to see SE onshore winds, possibly S/SW early Sunday but otherwise S/SE again and fresher.
Later in the day Sunday we're likely to see some new NE swell building ahead of a peak on Monday.
This swell, generated by the infeed of strong E'ly winds across the southern flank of the low is a bit more substantial in size for us owing to the low sitting further south.
We should see a late kick Sunday to 3ft on the sets, peaking Monday to 3-4ft or so.
Winds will improve for Monday as the low moves north-east, bringing offshore W/SW-SW winds, variable and then late NE.
NW winds will then kick in on Tuesday as the swell eases from 3ft. The S'ly groundswell in the mix for Monday has been downgraded but moving into late week, there's a fun new pulse on the cards to 3ft or so from a new polar front. More on this and another E'ly swell Monday. Have a great weekend!