Wednesday, 12 February 2020
Excellent period ahead
UNLESS YOU LIVE AT THE BEACH, PLEASE DON'T TRAVEL TO SURF
COVID-19 is changing the way we think about surfing. Travelling to the surf now means you're putting an unnecessary strain on the resources of small regional communities. So, please stay home. If you live near the beach and want to surf, please maintain a healthy spacing in the lineup, don't hang in the carpark, and keep your surf sessions shorter to allow others the opportunity to get wet. Above all, stay happy, healthy and look out for one another.
Eastern Tasmania Surf Forecast by Craig Brokensha (issued Wednesday 12th February)
Best Days: Southern corners tomorrow AM, Friday morning, southern corners Saturday and Sunday, Tuesday morning, Wednesday southern corners
Recap
A large NE groundswell and favourable winds for southern corners and experienced surfers yesterday, dropping back to 3-5ft+ today with good conditions in those southern corners again.
This week and next (Feb 13 - 21)
The coming couple of days aren't too flash but workable as we see the NE swell energy continuing to ease in size and strength ahead of a sharp uptick through the weekend.
Onshore S/SE tending SE winds will create poor conditions across all but southern corners tomorrow. Try early for a 3ft wave.
Friday morning now looks cleaner with an early variable S/SW breeze and mix of windswelly waves to 3ft for the keen.
We then move onto Tropical Cyclone Uesi.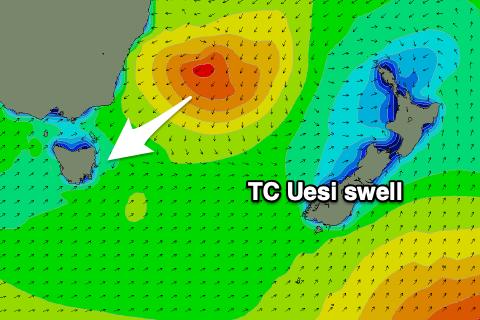 Uesi is currently slipping south, just south-west of New Caledonia and will continue to drop south through tomorrow while directing a fetch of gale to severe-gale NE winds down towards us. As Ben has noted in the southern NSW notes, while the track is down towards us, it is a little too fast than ideal, likely not resulting in a capture fetch scenario and possibly the storm outrunning the swell it is creating a touch.
In any case, we'll still see a large and powerful NE groundswell from Uesi filling in Saturday with the peak in size likely to occur through the afternoon.
The morning should offer less consistent sets to 4-6ft, with the groundswell peak pushing slightly above this with swell magnets picking up strong 8ft sets as it peaks.
Uesi will weaken and turn extra-tropical on the weekend but drift down towards New Zealand and re-intensify off the South Island Sunday evening and Monday.
We'll see an excellent fetch of E/SE gales aimed in our eastern swell window through Monday before the storm weakens rapidly into Tuesday.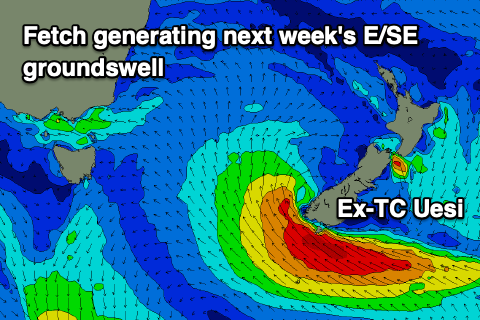 We should see the NE groundswell easing Sunday from the 6ft range, smaller into Monday and Tuesday morning ahead of a large E/SE groundswell pulse later Tuesday and peaking Wednesday. Exposed beaches are currently expected to kick back to 3-5ft by dark Tuesday and come in around 6ft on Wednesday, easing thereafter.
Now, looking at the local winds through the weekend and early next week, and Saturday looks great in southern corners as a trough moves through bringing fresh S/SW tending strong S/SE winds, S tending S/SE into Sunday as the swell eases.
Monday is looking a bit suss with onshore E/SE-SE breezes, great Tuesday with SW to SE winds. Wednesday is currently expected to offer favourable winds for southern corners again. Have a check back here Friday for any change to the expected size, timing or local winds in this very active period.