Thursday, 31 July 2014
Bali: S'ly swells into the weekend, large from the SW Tuesday
Java, Bali, Lombok, Sumbawa forecast by Craig Brokensha (issued Thu 31st Jul)
Best Days: Every day besides Monday morning
Friday and this weekend (Aug 1 - 3)
There's been plenty of swell across the region the last couple of days, and after hanging in this morning we should see a slight drop during the day.
Into tomorrow though an inconsistent S/SW groundswell should arrive, generated south-west of WA over the weekend and into the start of the week.
This should see exposed spots coming in at 6-8ft most of tomorrow before easing later in the afternoon and then dropping through Saturday from the 6ft range.
A very acute and less consistent S'ly groundswell is then due on Sunday and this swell, generated late in our swell window just under the south-west corner of WA.
This will result in a wide variation of wave heights, with not much size east to Sumbawa due to the shadowing effects of North Western Australia, while Bali and more so Eastern and Central Java should see the most size. Exposed breaks are expected to offer inconsistent 8ft sets Sunday morning before dipping away noticeably through the day.
Fresh and gusty E/SE trades are expected for the most part over the coming days, and they look to strengthen through early next week limiting surfing options to protected breaks which will be much smaller under these S'ly swell events.
Next Monday onwards (Aug 4 onwards)
Monday morning looks to be a low point in swell activity but into the late afternoon we should see the fore-runners of a new large and long-range SW groundswell filling in.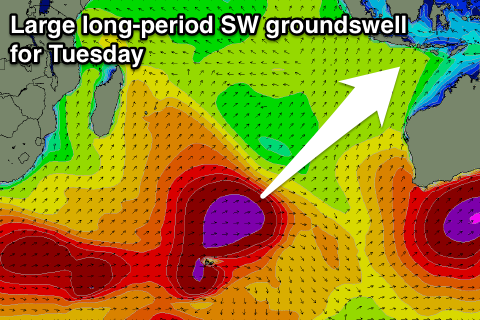 This groundswell is being generated south-east of Madagascar by back to back polar frontal systems, with the second broader front working on the active sea state created by the first.
This second front should continue west towards WA while weakening into tomorrow leaving a long-range, but strong and large SW groundswell to travel towards us.
A peak in size is due through the middle of the day Tuesday with exposed spots expected to offer inconsistent 8-10ft sets.
A drop in size is due through Wednesday but a reinforcing S/SW groundswell is due through the afternoon, generated by a fetch of severe-gale but patchy W/SW winds on the backside of the progression generating Tuesday's swell. This will just soften the easing trend and keep 6ft to occasionally 8ft sets hitting exposed spots before backing off into Thursday. Strong E/SE trades will again limit the best waves to protected spots, where the swell will be smaller.
From here on there's nothing major until mid-week the following week, but we'll review this Tuesday.
16 day Bali Forecast Graph
16 day East Java Forecast Graph
16 day Sumbawa Forecast Graph