The secret life of Great Circle paths
A friend recently returned from a trip to Tahiti sporting all the hallmarks of a successful surf mission: suntanned limbs, coral-shredded feet, and a glazed look in his eyes that spoke of sustained euphoria and the long tail of contentment - his calmness was monastic. And yet just two weeks earlier his disposition was agitated and tense; there he was, about to fly to Tahiti with nary an isobar offering assistance in the swell window south of Tahiti.
So he flew into Papeete with low expectations, and understandably so. Yet he flew out of Papeete in a state of serenity from gorging himself on days of long-range, high plus waves at Teahupoo. His only complaint was inconsistency, at times the sets were up to ten minutes apart, but with few people around he simply slowed down and matched his rhythm to that of the swell. A trick that no doubt contributed to his state of grace.
But where did the swell come from? The expanse of ocean immediately south and west was barren of storm activity.
The answer to that - at least the most likely answer – was Teahupoo's Great Circle Path. A Great Circle Path is the shortest distance between two points on a spherical surface, and when projected on a rectangular map, takes the form of a curve.
If we look at the map below and draw the shortest apparent distance between Madagascar and Tahiti, a straight line as-the-crow-flies approach would be wrong. It's actually the red curve shown below that represents the shortest distance between those two points. This would also be the route planes take if flying between the two locations. For instance, the Great Circle Path between Sydney and Johanessburg is the 'polar route' that flies over Antarctica.
What this also reveals is that any storm or fetch generated in line (parallel) with the red line will generate swell aimed ideally for Teahupoo.
Yes, incredibly, a fetch of north-west winds off Madagascar, aimed towards Antarctica would generate a swell that would travel south-east towards the polar shelf before curving under Australia and then back up towards Tahiti, arriving from the south-west.
Unless the storm was very significant, the swell would lose much of its size due to swell decay travelling such a large distance, and also be inconsistent, but with nothing else in the water, it'd provide waves when there otherwise wouldn't be any.
If we look at one of the Great Circle Paths for Fiji we can see that a similar but slightly different storm track is evident.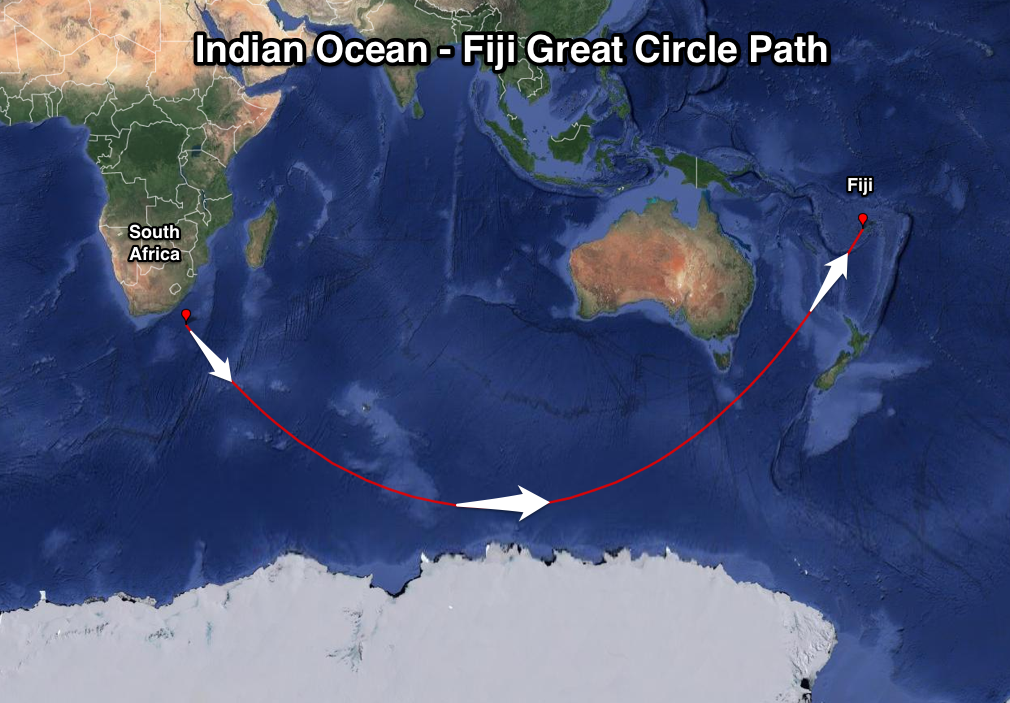 Storms forming more immediately off South Africa rather than Madagascar aimed towards Antarctica will travel towards the polar shelf before bending back up through the Tasman Sea and towards Fiji. The swell window south-west of Tasmania is Fiji's prime swell window, with all the largest swells produced in this area.
Another interesting Great Circle Path is the route from the Southern Ocean to Puerto Escondido in Southern Mexico (see below).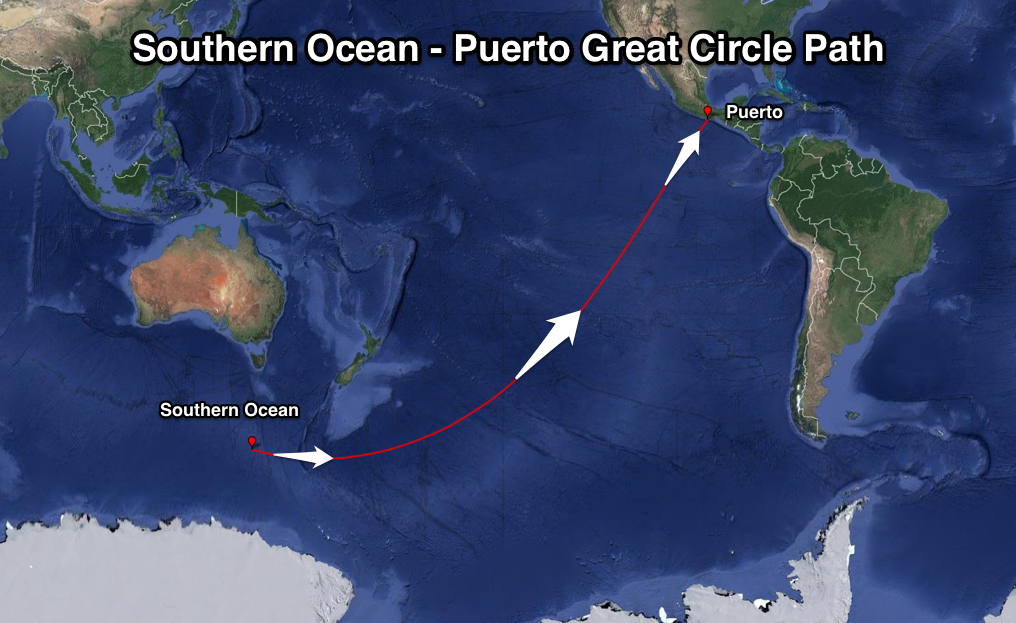 A storm forming south of Tasmania, generating winds aimed to the west will create a very long-range and long-period groundswell for Puerto. Large swells that impact Tahiti, continue onto Mexico if generated in the area shown above, arriving a few days later but with just as much power.
There are Great Circle Paths for every surf spot on the planet, but most of these are intersected by large land masses or continents, rendering them useless for swell forecasting. Others are more straightforward and not too far off what visually looks to be the straightest line between two points.
The usefulness of Great Circles for surf forecasting comes in telling whether a storm's track and orientation is along or perpendicular to a certain locations path. If it's parallel/along it, you can expect the location to receive the bulk of the size, while if perpendicular it's not ideal at all for swell generation. //CRAIG BROKENSHA & STU NETTLE