Biggest waves ever recorded in Sydney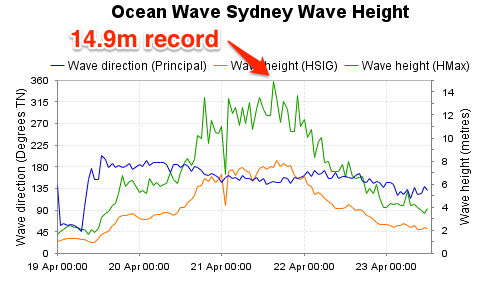 This week delivered one of the strongest East Coast Lows in recent memory, along with incredible rainfall totals and wave height measurements.
The NSW Public Works' Manly Hydraulics Laboratory Wave Buoy - located about twelve kilometres offshore from Dee Why - broke a couple of records.
On Tuesday afternoon it measured its largest ever Maximum Wave Height, and it broke the record for number of hours the Significant Wave Height stayed above six metres. Perhaps most amazing of all was that it stayed anchored to the ocean floor and kept transmitting through nearly the entire event.
The record breaking wave was measured at 14.9m (Maximum Wave Height), and the sustained nature of the East Coast Low saw Significant Wave Heights - the average height of the highest third of all recorded waves - stay above 6m for an incredible 30 hours (the previous record was 24 hours).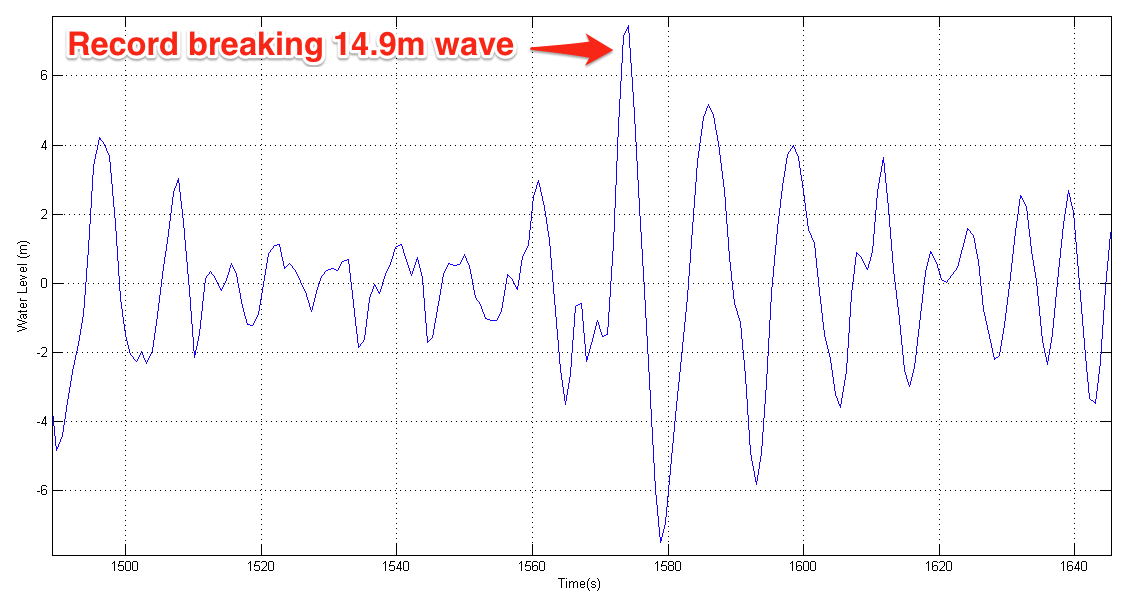 Manly Hydraulics Laboratory provided the actual trace of this record breaking wave which you can see to the left. The measurement follows the buoy's displacement from mean water level, rising up past 7m and then falling back past 7m below sea level.
Just an hour after this record-breaking Maximum Wave Height occurred, Significant Wave Heights were calculated at 8.1m, a 1 in 20 year event. The next comparable swell was back in 1997 and then before that 1974 - a year fondly recalled by older surfers.
Wave buoy data such as this is often recorded several times per year across Southern Ocean wave buoys (Cape Sorell, Cape du Couedic) during the biggest swells of the year, but such events are rare on the Australian East Coast.
Now with the rain clearing and the swell dropping, the fallout from this ECL on the coast and land is visible to all. Widespread coastal erosion, sand blown back into the suburbs, as well as flood and tree damage across the Sydney and Hunter regions.
It'll take a while to recover but statistically speaking it'll be another couple of decades before we see anything of similar magnitude. //CRAIG BROKENSHA
The NSW wave data monitoring program is funded by the Office of Environment and Heritage.