Rip Curl Pro Bells: Early Forecast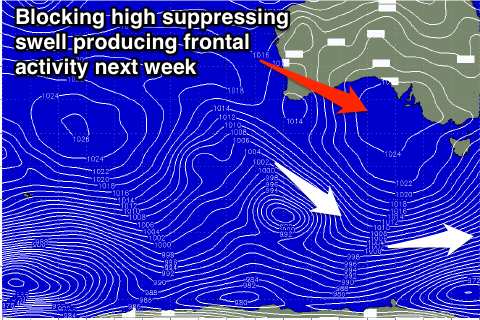 With the Quiksilver Pro falling in the only prolonged flat spell the Gold Coast had seen in months, hopes are high that the Rip Curl Pro Bells Beach will be a redemption of sorts. Ideally the forecast will detail straight lines of Southern Ocean groundswell under crisp offshore winds, the type of conditions seen over the last two years at Bells.
So will Bells' run of good surf continue, relegating the lay days of Snapper to a distant memory?
For the start of the waiting period, no.
The last couple of weeks have seen many fun days across Bells and Winki, but as we move into the middle of next week (the waiting period begins on Wednesday), an unfavourable atmospheric blocking pattern is forecast to develop. What this means is that we'll likely see a suppression of Southern Ocean frontal activity along with a 'blocking' high pressure moving in across the south of the country.
This doesn't bode well for the Rip Curl Pro as classic Surf Coast conditions are the result of strong polar frontal systems pushing one after the other up and into Victoria.
With those swell-producing systems shut down we're instead looking at small to moderate pulses of inconsistent background SW groundswell energy with dicey winds due to the passing of surface troughs. This will be the pattern across the state through at least the first half of the of the contest window.
All is not lost though, as the waiting period runs until the 12th of April, thus if the upper atmospheric blocking pattern moves off to the east, it could open up a chance for good waves to end the event.
We'll keep a close eye on things and providing running updates in the comments below. //CRAIG BROKENSHA
** The latest forecast update is at the bottom of the comments.