Pam's long lasting scar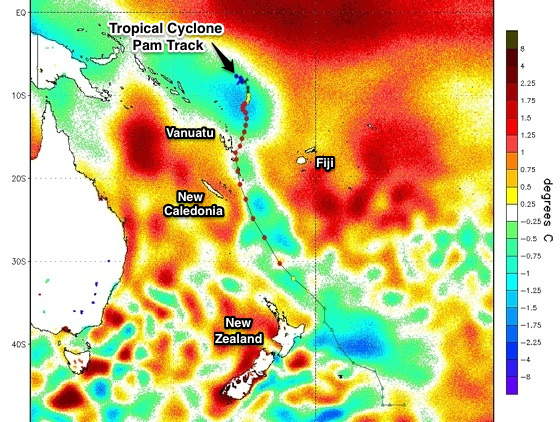 Earlier this week Tropical Cyclone Pam produced the biggest north swell in years across New Zealand while also sending a day of quality waves to Australia's East Coast.
Pam was responsible for approximately twenty deaths across the small island communities south of Vanuatu. It also caused widespread damage which will take many months to recover, but that's not the only trace of her existence. Pam also left a trail across the ocean which will be seen for weeks to come.
Tropical cyclones feed off warm sea surface temperatures. They suck the energy out of the ocean in a continuous positive feedback loop which is only stopped either by strong upper atmospheric winds or if the cyclone moves into cooler waters, generally below 26.5 degrees.
Storm-force winds associated with Severe Tropical Cyclones (STCs) such as Pam also mix up the water column, allowing further energy to be extracted from deep beneath the sea surface. High rainfall along with the energy extraction leaves sea surface temperatures much cooler than they were prior to the cyclone's passage.
This is shown clearly by satellite observations of the sea surface temperature anomalies in the image above.
A sea surface anomaly is the difference between the current Sea Surface Temperature (SST) and the long-term average, providing a good visual representation of the oceans current state, whether that be cooler or warmer than normal.
In the picture above most of the Western Pacific Ocean is warmer than average shown by yellow to red shadings, but a mint green path from north of Vanuatu down past New Caledonia, finishing off New Zealand's East Coast can clearly be seen.
This shows the rough track STC Pam took - overlayed on the image as the black line with coloured dots – simply by way of the cooler ocean temperatures left in its wake. Four years ago Severe Tropical Cylone Yasi left a similar signature through the Coral Sea (read our article here).
Over the coming weeks the ocean will start mixing again, hiding the scar left by one of the strongest and largest swell producing systems in the South Pacific in quite some time.
But the devastating effects of STC Pam across the Vanuatu region will be much longer lasting. //CRAIG BROKENSHA
If you'd like to donate to the communities affected by Tropical Cyclone Pam you can do so through here: Oxfam