From Asia to America: Typhoon delivers widespread swell
In the coming week a rare event will take place in the North Pacific ocean: effectively every country in the region - from the Solomon Islands clockwise around to Mexico - will receive swell from a sole source. That being Super Typhoon Nuri.
It was just under a month ago that Japan received a huge swell from Super Typhoon Vongfong, while at the same time Hawaii's North Shore saw back to back swells bring Pipeline to life.
These were separate and isolated swell events but signified the start of the North Pacific swell season.
This time around though we'll see Super Typhoon Nuri, currently sitting east of the Philippines, deliver swell to the Solomon Islands, Papua New Guinea, the Philippines, Taiwan and then Japan before tracking north-east and being absorbed into the Aleutian storm track.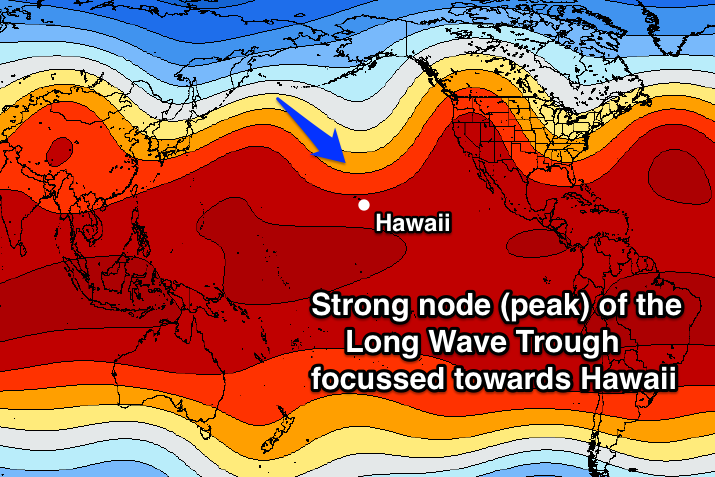 Couple this with a strong amplification (peak) of the Long Wave Trough across the North Pacific and Nuri will restrengthen and deepen significantly, before 'bombing' off the Aleutian Islands.
A bombing low is a weather system that drops at least 24hPa in central pressure in a 24 hour period. This system is forecast to drop from 960hPa down to an incredible 924hPa during Saturday.
This will subsequently establish a fetch of severe gale to hurricane-force winds aimed towards the North American mainland, but also well inside Hawaii's swell window. Although the low will weaken during Sunday a broad fetch of severe-gale west-northwest winds should continue to be aimed towards both regions for a couple of days.
A prolonged large N/NW groundswell should result, arriving across Hawaii through Tuesday next week, building to a large 10-15 foot through Wednesday before slowly tailing off Thursday. The same swell should arrive across the Northern Californian coast mid-late next week.
This won't be the end of the activity either as the Long Wave Trough remains focussed towards Hawaii well into next week, likely generating large follow up NW groundswells well into the middle of November.
Hopefully we continue to see the swells delivering into December for the title showdown at Pipe.
North Shore Forecast
North Shore WAMs