Off the charts: The mystery of mysto swells
"Bear knew where the waves came from and why."
- Big Wednesday, 1978
A lot of things have changed in the surfing world since Big Wednesday first hit the movie screens. In 1978 professional surfing was in its infancy, most people rode single fins, and surf forecasting was a rudimentary art consisting of equal parts science, intuition, and sheer pot luck.
Some surfers had a handle on the basics of surf forecasting, they could predict swells created close to shore or from a frontal system. Yet every so often a swell would hit the coast from no obvious source. They were mystery swells, and due to modern day surf forecasting they are practically a thing of the past (cue grumbling from the surfing Luddites).
This brings us to the very long-range easterly groundswell due this Sunday and Monday across Australia's East Coast. Even ten years ago this swell would have been hard to spot, and in Bear's day it would have seemingly arrived out of nowhere.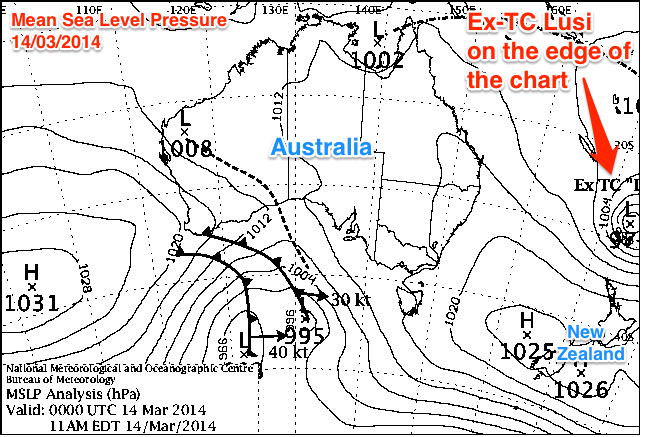 Before the internet, amateur surf forecasters used the synoptic charts in the local paper provided by the Bureau of Meteorology. They'd try and get an edge on the rest of the surfing population who'd just rock up at the beach day after day, dealing with what they were given.
The BOM's charts were fine for forecasting swells generated within Australian waters out to 2,000km (a distance to about New Zealand and halfway to Heard Island) but were useless for longer-range swells from the Western Indian Ocean or greater South Pacific Ocean. Those swells were literally off the map.
Last weekend's swell, which formed between Fiji and New Zealand, could have been forecasted by monitoring the BOM weather charts, as Ex-Tropical Cyclone Lusi sat just on the right hand edge of the charts (top image). Keen-eyed surfers would've known a swell was coming.
But have a look at today's chart (middle image) and you'll see nothing of significance anywhere east of the Australian continent. There's only a weak high pressure ridge across the Coral Sea and a polar frontal passage south-west of Tasmania and Victoria. It would appear there's nothing of interest in our swell window.
However, if you look at Swellnet's WAMs (bottom image), which extend out an extra 5,000km further east of the Bureau charts, you will spot a significant tropical synoptic setup around the Cook Islands. This is Tropical Cyclone Mike and it's moving slowly south into a broad and strong trade-flow created by a large stationary high east of New Zealand. It's a great swell-producing system and it's totally off the BOM's weather charts.
The distance between Tropical Cyclone Mike and the Australian East Coast is about 4,600km, with the swell expected to take three to four days to reach Northern NSW and South-east Queensland. If a surfer was only looking at the BOM charts they'd have no idea where this swell had come from. A mystery swell indeed. But with access to better charts we now truly know where this swell is gonna come from and why.
--------------------
As an end note, we can't stress enough how inconsistent this groundswell event will be. This system is twice as far away as Tropical Cyclone Lusi, so if you thought there were long lulls during last weekend's swell this next swell will see twice the inconsistency with waits of up to 15 minutes and not much in between. So prepare to be patient and also take that extra ten minutes to watch the surf before paddling, just to get a better picture of what the ocean is doing. //CRAIG BROKENSHA with STU NETTLE
Check your local forecast here:
Gold Coast
Ballina
Coffs Harbour
Newcastle
Northern Beaches
Cronulla
Wollongong
Ulladulla