South facing vs north facing: what is your beach?
In the coming days the East Coast will be bathed in pulses of southerly swell, and this means there will be a lot of difference in wave size depending on where you surf.
Most of us have had a few days to get used to Swellnet's new forecasting system, but for those still having a little trouble deciphering the new graph layout we've provided a working example.

Starting from the basics, the East Coast has beaches that face a wide range of different directions. Some face south, others dead east, while many are aimed straight north-east. Each beach will react differently to different swell directions.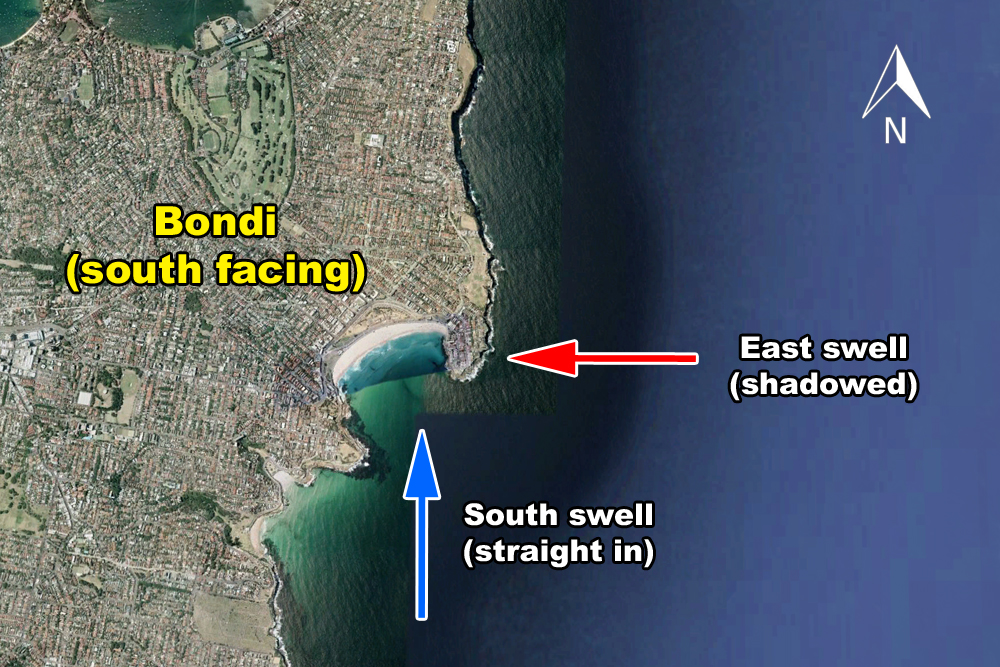 Southerly swells will come in strong across spots which face directly south, while more protected beaches that face east or north-east will see the swell pushing straight past, with only small levels of swell refracting in to shore (on the contrary north-east swells will hit east and north-east facing beaches head on, while their south facing cousins will remain much smaller).
To the right is an aerial image of Bondi and we can see it faces nearly dead south. This is why under southerly swells Bondi will pick up all the available size while Maroubra - which faces east - will be smaller. But under an easterly swell, we can see that Ben Buckler (the eastern point of Bondi) will block and shadow a lot of the swell energy resulting in smaller waves compared to the more exposed beaches of say Maroubra or Bronte.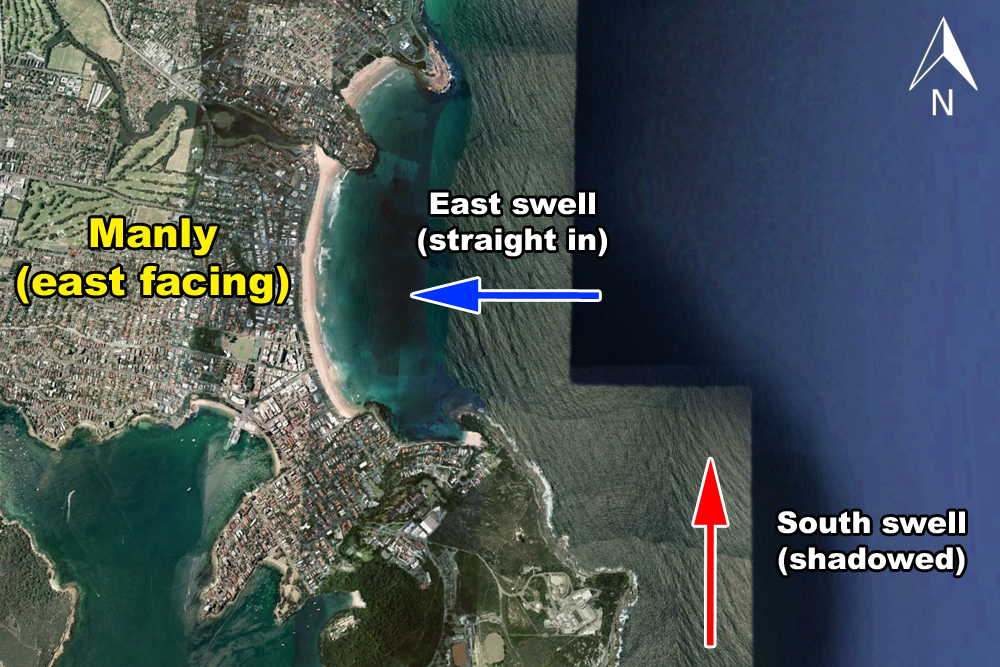 Looking at Manly (see image at right) we notice that it faces dead east. So under the same southerly swell that hits Bondi head on, we'll see the swell energy 'passing by' Manly and coming in a lot smaller.
This characteristic is even noticeable at beach level. During southerly swells, the more exposed northern end of Queenscliff will pick up more size than the sheltered South Steyne or the corner at Manly. If however the swell comes in from the east or even north-east, Manly will pick up all the size while more sheltered spots like Freshwater or Curl Curl will be smaller.
As you look to the forecast charts for your region, many East Coast spots will have charts similar to the one below (Northern Beaches is being used in this example).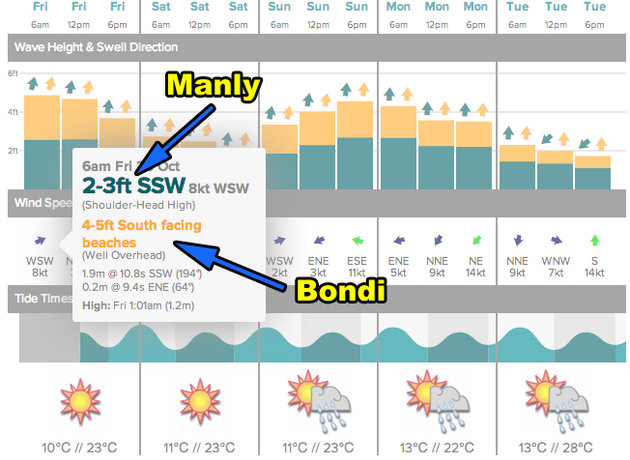 Using 6am today as an example we see both green and orange bars. This indicates that there'll be a difference in size across the coast, but where and how much is all dependent on the swell direction.
Firstly, on top of the bars are two little coloured arrows and these indicate the swell direction relative to the coloured bars.
Next, the green bar indicates what size 'open beaches' or 'east facing' beaches should be. We can see from the tool-tip that at dawn in Sydney open beaches should be 2-3ft, and this would correspond to Manly.
The yellow bar indicates that there should be larger 4-5ft waves at south facing beaches, and this corresponds to Bondi.
If the swell direction swung more east we would see the difference between south facing and open beaches decrease until the yellow bar disappeared.
The Swell Train Analysis below the graph goes into further detail and also includes values for 12am midnight.
Below we have the same forecast for Friday at six hour intervals. The split rectangle isn't giving a forecast for AM/PM but a short-hand form of the open-beaches/south-facing beaches.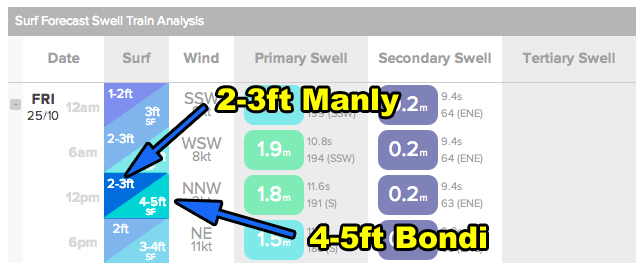 At 12pm we can see the same 2-3ft forecast for open beaches, but the split 4-5ft SF indicates south facing beaches will be 4-5ft. If we had a north-east swell the SF changes to NF, and if the swell is say from the east, it will just be one large rectangle with one size reading indicating open beaches.
While it may take a while to get your head around, providing the forecast in this format allows us to convey as much information as possible in the easiest format.

If you have any questions, fire them off below.