Super Typhoon Francisco
While Australian surfers – more specifically, Queensland surfers – wait for their cyclone season to begin, the Western Pacific basin has been very active with tropical depressions and cyclones (called typhoons in that part of the world).
Overall the Western Pacific typhoon season has been average with ten systems in total. However, the last month has been exceptional with six of those ten systems forming in the last four weeks. It's been a back-to-back run of storms and swell for those who know where to look.
The latest storm to impact the region is Super Typhoon Francisco. Less than a weak after Typhoon Wipha made landfall across Japan, killing 20 people, Super Typhoon Francisco is currently tracking on a similar path and is expected to push across the Ryukyu Islands of southern Japan today (Wednesday AEST).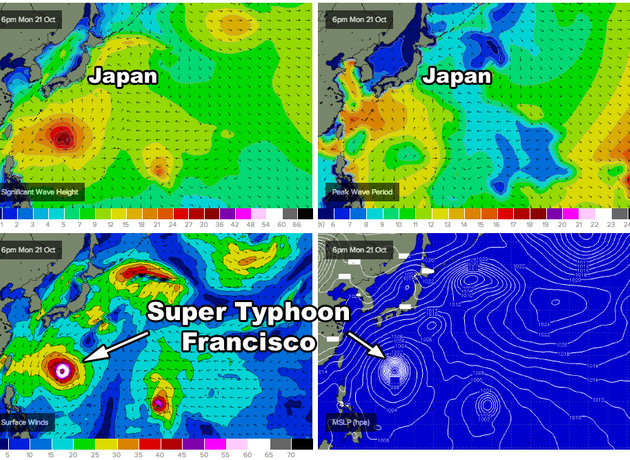 Francisco reached Category 5 status but will weaken while tracking north-west towards Japan as it encounters cooler waters and strong wind shear in the upper atmosphere. A large easterly groundswell is forecast to be generated by Francisco, peaking tomorrow (Thursday) morning across the Ryukyu Island chain before dropping rapidly and giving way to a large northerly groundswell as the typhoon crosses the archipelago.
Although Francisco weakened on approach it'll still deliver an XL swell to Japan's southern isles. The eastern shores of Amami and Tanegashima are likely to peak in the 15 foot range, while as the swell swings to the north, the western shores are expected to peak around the same size on Friday. While it's provided plenty of surf it's also brought flooding, deadly landslides and destructive weather to Taiwan, Japan and other small islands scattered around the Western Pacific.
Follow the path of Super Typhoon Francisco and the swell it generates for the Ryukyu Islands on the Swellnet WAMs. Amami is one of the most exposed islands.