Skeleton Bay: The Death of a Wave Foretold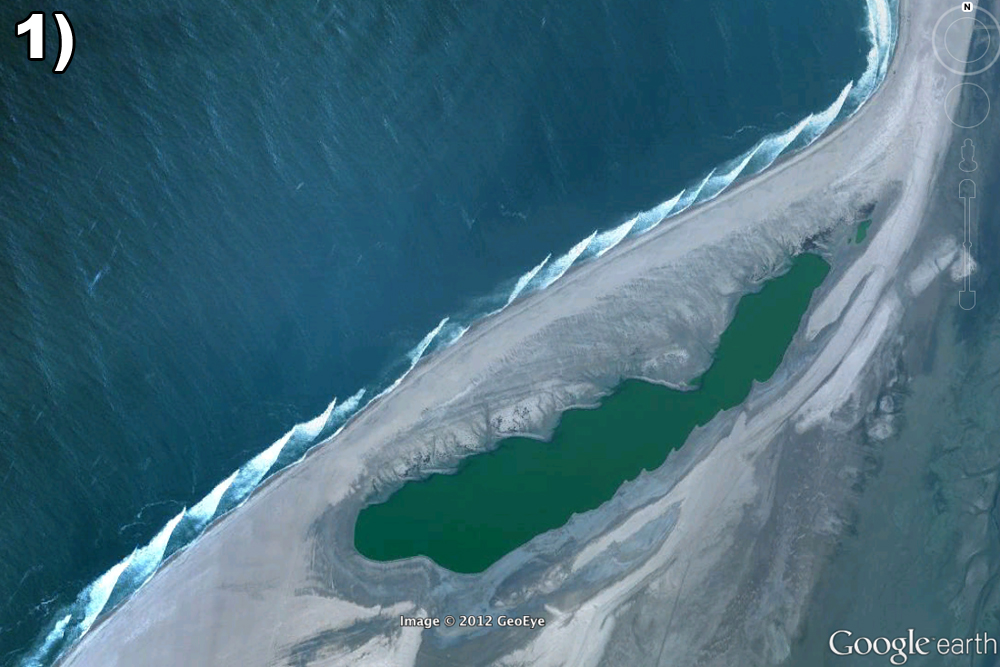 Skeleton Bay, the world's most perfect and thought provoking sand-bottom left hand point break may not exist in twenty years time. It's a bold statement to make so let's qualify it: Skeleton Bay as the surfing world knows it – that is, a kilometres-long, thick-lipped, freight-train barrel – may not exist in twenty years. Although if coastal processes continue as they have there is a very real chance the bay may not exist at all.
As a wave, Skeleton Bay was only brought to the surfing world's attention very recently. Four years ago, American surfer Brian Gable submitted Skeleton Bay as an entry to Surfing Magazine's 'Google Earth Challenge 2' competition, which he subsequently won.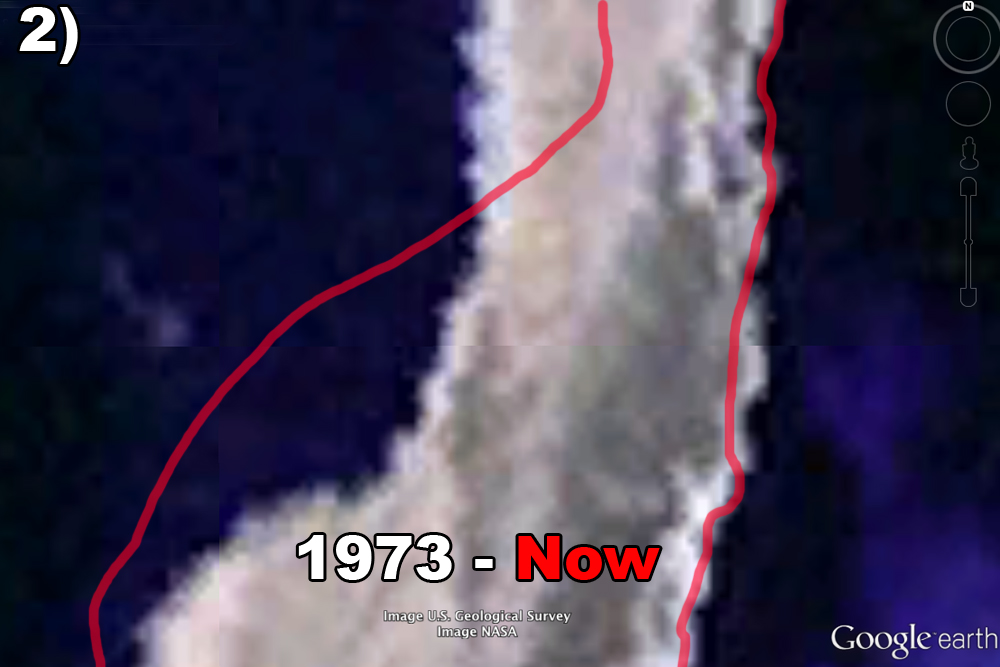 Shortly thereafter Cory Lopez was filmed in a ridiculously long barrel which led to the wave being known as 'Cory's Left' for a short while. Since then it's been documented by an increasing number of surfers to the point where each swell sees the beach lined with 4WDs and cameramen who've travelled from South Africa or even further afar.
It appears there's a conspicuous absence of locals at Skeleton Bay, especially long time locals, which seems unusual for a wave of such quality near a medium sized township. Yet if we look at historical maps of the region it becomes clear why that is. Just fifteen years prior to Brian's online discovery, the perfect shape of the sandspit that features in so many magazines and videos was considerably different to its current state.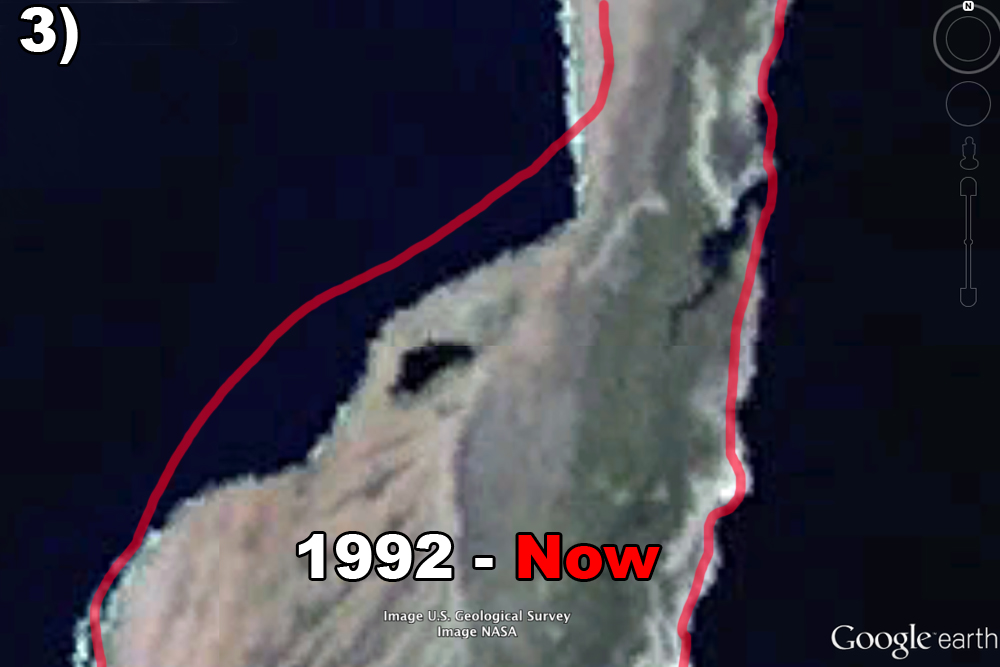 The location of this incredible wave is right on the edge of one of the oldest deserts in the world. This region of Africa is also unique in that the combination of strong southerly winds over the desert and northward flowing coastal currents are causing a reclamation of land; Skeleton Bay is growing north-westward into the South Atlantic Ocean at a rate of approximately ten metres every year.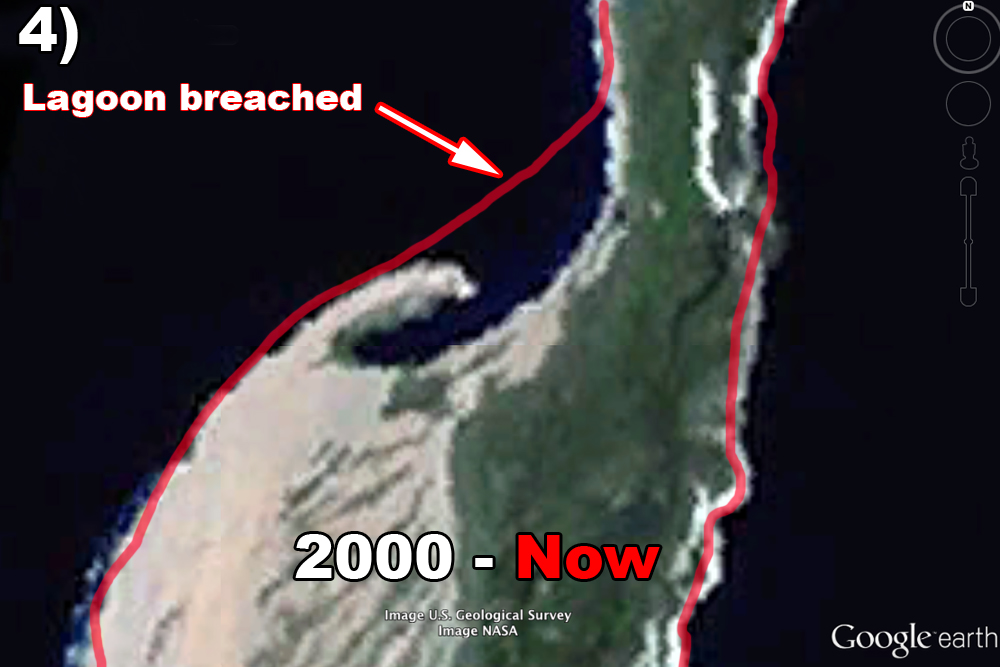 Testament to this incredible rate of land reclamation is the wreck of 'Eduard Bohlen' (images 7 & 8) not far from Skeleton Bay. In 1909 the ill-fated cargo ship ran aground in thick fog on the Skeleton Coast. Now, over one hundred years later, the shipwreck lies four hundred metres inland from the Atlantic Ocean and some eight hundred metres from where waves currently break. The Eduard Bohlen marks the old coastline yet it now sits completely surrounded by sand in a dramatic reminder of how dynamic the coastline here is.
The shape of Skeleton Bay has changed considerably over the past forty years due to large amounts of sand moving northward along the sand spit. At the moment the wave is approximately one kilometre further north of where it would have broken in 1973 (image 2), and almost four hundred metres north of where it was positioned in 1992 (image 3).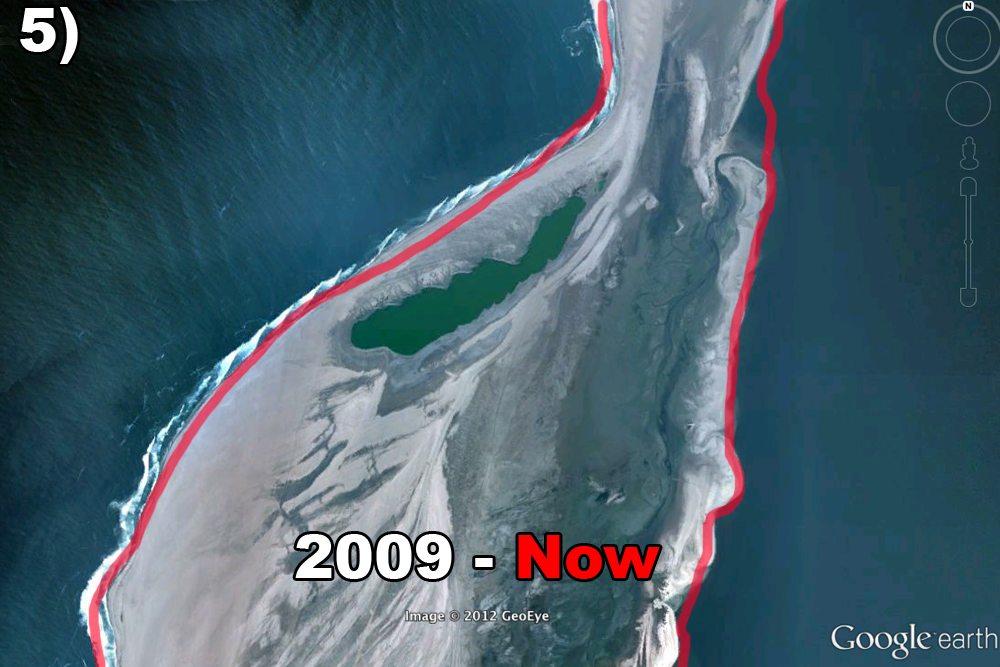 More recently the adjacent lagoon breached its banks in 2000 (image 4), washing away the entire second half of the sand spit. This is likely to have caused a fundamental change to the characteristics of the surf, if not completely wiping out the last kilometre of the wave that we currently know.
While Skeleton Bay has moved slowly north over the past few decades, its angle has also changed to a slightly 'straighter' west-east orientation. This current alignment seems to be the perfect angle to bend incoming swells into mechanical and makeable two-kilometre-long barrels.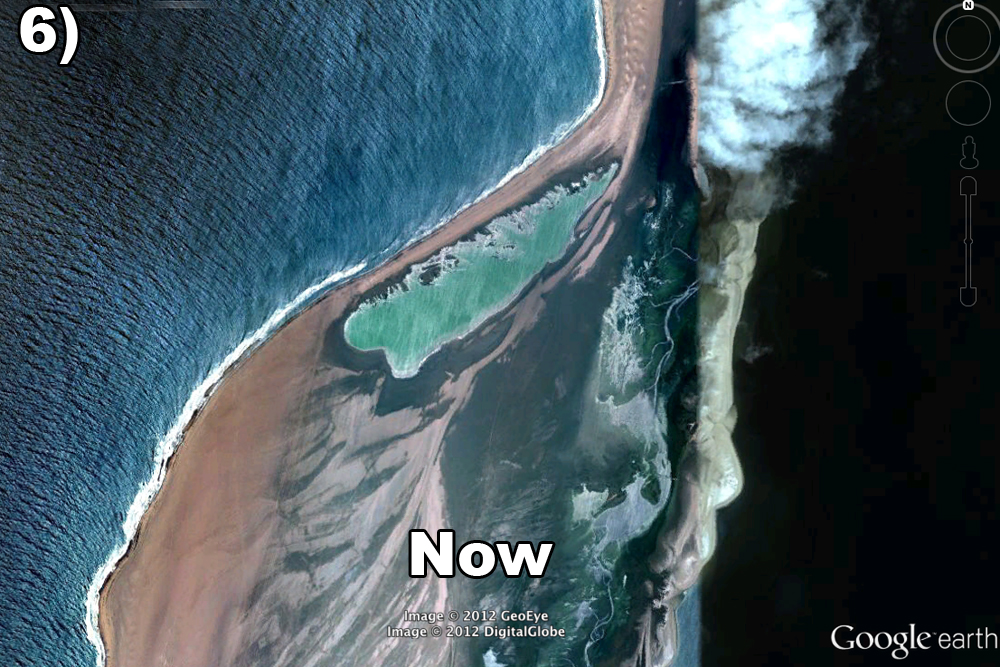 Due to the constantly changing geomorphology around Skeleton Bay, numerous studies have been conducted on the sandspit it lies along due to the protection it provides to a harbour and town directly east. While providing surfers with a flawless wave it also acts as a buffer to persistent swells and winds moving up from the south.
One study estimates that nearly 1 million cubic metres of sand flows past Skeleton Bay per year, with the spit just north of the wave surveyed to grow 340 metres between 1980 and 1996. That's a remarkable 22.6 metres a year, but while this sand nourishing is occurring north of Skeleton Bay, at the end of the actual wave proper, erosion is occurring at an alarming rate with the peninsula narrowing towards the harbour. If this continues the ocean could once again breach the sandspit, not only affecting the wave quality but making the harbour more vulnerable to Atlantic swell activity.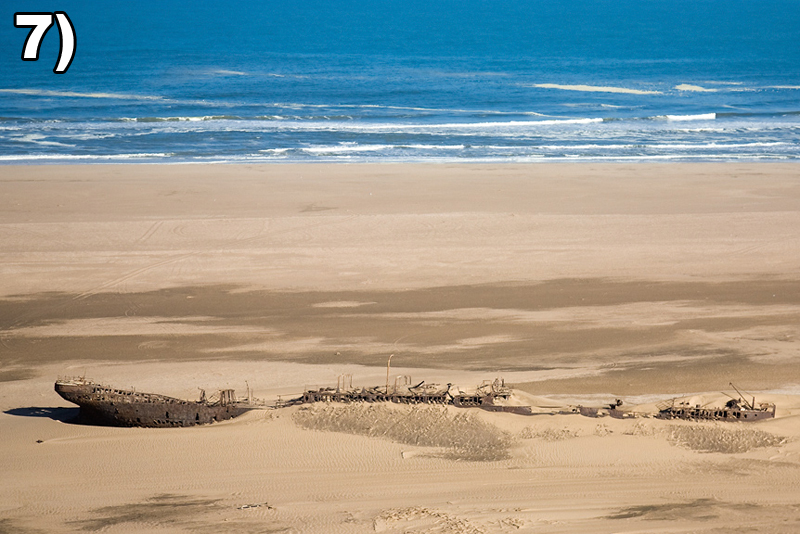 This is a very real scenario if the region receives back to back storm swells, and with the sandspit lying only one metre above mean sea level there's even been talk of preventative measures to stop the breaching. One temporary measure details bulldozing sand south of the wave so that it flows north and slows down the erosion. Other measures include sandbagging the narrow area, there's even talk of a groyne being built at the end of the wave to help in sand accretion.
With all this natural change one can easily come to the conclusion that surfers have stumbled across this wave in its prime, and it may not be long before the wave itself disappears as quickly as it was formed.
But the big questions is this: how long can we expect Skeleton Bay to hold its current shape after so much change in the last forty years? After all it's a sand-bottom wave and the contours that make it so special are perpetually changing.
While it's hard to say how long Skeleton Bay will remain a world class break what we can learn is that many of our coastlines are constantly evolving and this leads to a very exciting thought: the search for the perfect wave may literally be endless. While it sounds like marketing fantasy the fact is our coastlines are constantly evolving, some of them rapidly. As they do, the potential for new and untapped discoveries like Skeleton Bay remains everpresent.
By CRAIG BROKENSHA with STU NETTLE.
Video of Cory Lopez's first wave at Skeleton Bay: Lost.TV - Cory's Left Image 7 coutresy of http://heinrichs-family.de