Coastal Creationism - Part 1: Basic reef shapes
Monday, 19 October 2015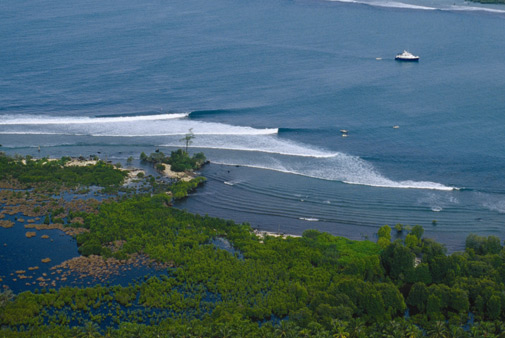 What is a perfect reef and why are they so rare?
Surfers instinctively know a perfect reef when they see one. Of course they're easy to identify by the perfect waves breaking with mechanical precision, but the big problem is that perfect reefs are few and far between and new reefs are damn hard to find. Maybe they only break perfectly with a rare swell, wind, and tide combination. Or perhaps the perfect reef shape is rare, kind of like the shape of one of those 'magic' surfboards: everything about it is just right, but you never find another board like it.
One thing we know for sure is the precise three-dimensional geometry of a perfect reef is a natural wonder that's difficult to understand and almost impossible to replicate.
Yet because reefs are a function of natural processes and these processes can be described and analysed by science, there has been some credible research into what makes perfect surf reefs so extraordinary. Some of the most detailed work has been done in the effort to replicate these natural wonders and create artificial surfing reefs.
Of course science is an iterative process where many different researchers over time will build on the body of research to eventually unlock solid working knowledge of the processes. However, we are still waiting for science to deliver on its two most eagerly awaited discoveries. No, not the Grand Unifying Theory and evidence of dark matter, functional hoverboards and perfect artificial reefs are the breakthroughs we await.
At this stage the science behind artificial surfing reefs is a fast developing work in progress. However, a combination of what has been learned so far on artificial surfing reefs along with a scientific understanding of geology, geomorphology, and coastal processes, we can gain a better understanding of natural surfing reefs - and in the process hopefully find a few hidden gems.
Firstly, what makes a great surfing reef? What are the underwater shapes that turn swell, tide, and wind into epic waves? Keeping in mind that surfers of different abilities and equipment are seeking different versions of perfection to suit their wave riding style and speed.
The work of surf scientists to quantify what we want was codified by James 'Kimo' Walker at the University of Hawaii in 1972 and looked at 'peel angle' relative to wave height and related this to surfing ability. This initial work was significantly refined by Hutt et al (2001) looking at the variety of sections at Raglan during a good swell and across the tidal cycle.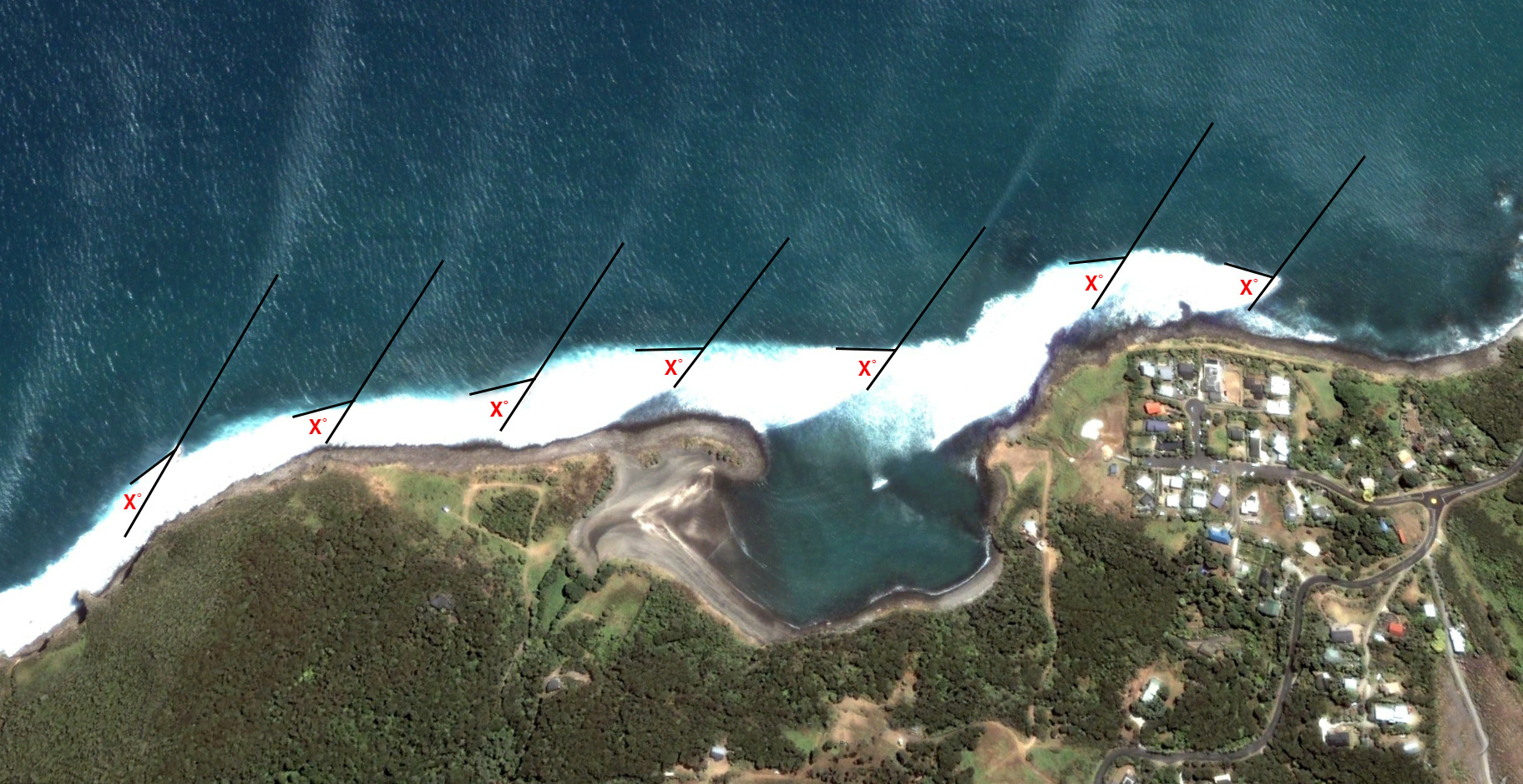 The peel angle - X˚ - as demonstrated by a set peeling down Raglan from Indicators, where the peel rate is fastest, past The Valley and into Whale Bay, where the peel rate is slowest
The important number is the peel angle, defined as the angle between the line of the crest of the unbroken swell and the line traced by the whitewater as the breaking curl peels along the reef. Summarising, most surfers want a peel angle between 50 degrees - which provides slow but fun waves - to 30 degrees - which describes fast, down the line waves. Beyond 27 degrees most waves would peel too fast to be be ridable for even the best surfers on the fastest equipment. You and I would call it a closeout.
The next parameter that matters is wave steepness. Science defines four main wave breaking types: spilling, plunging, collapsing and surging.
A spilling wave is best described as a slow fat wave, without a clearly defined lip. A mushburger in other words.
A plunging wave is what most surfers are after, however the term is too broad as it incorporates everything from a gently throwing, thin-lipped peeler through to the most extreme mutant slab.
A collapsing wave is something beyond a slab, where the lip undersucks and turns the wave inside out, rendering it a useless boil of whitewater.
A surging wave is what we see when a wave just runs up a steep, high energy beach - expending its energy without forming a wave face.
So when we are looking for a good surfing reef, it is clear that surfers want a very specific reef shape that will turn commonly occurring swell, wind, and tide combinations into a plunging wave that will peel along the reef at an optimal angle.
In subsequent articles we will examine the reefs shapes that surfers rate most highly, and how bedrock geology and coastal processes come together to create the magic. We'll also look at regional differences and why this means some sections of coast are better than others for creating pumping waves. This also means we can also look at other sections of coast and find out why they are so crap and dissapointing. Stay tuned...
Coastal Creationsim is the first of an eight part series written by Chris Buykx. Chris Buykx is a geologist, traveller and lifelong surfer. Specialising in eco-tourism, his passion is interpreting nature and the environment. Chris is a resident of Sydney's Northern Beaches though he's currently doing a lap of Australia with his family.
(homepage photo of Macaronis by Nathan Smith/SurfAid)