Very small until the swell kicks Tuesday
Western Australia Surf Forecast by Craig Brokensha (issued Friday March 26th)
Best Days: Tuesday morning, Wednesday morning Perth and Mandurah, Thursday morning
Features of the Forecast (tl;dr)
Building W/SW swell energy Tue, holding Wed, easing slowly Thu PM
Recap
Poor surf to end the week, bottoming out yesterday but increasing a little today with less than ideal winds for the South West. Perth and Mandurah have remained tiny.
This weekend and next week (Mar 27 - Feb 2)
The small pulse of swell seen in the South West today will fade tomorrow, with a secondary, similar sized pulse to 2-3ft due Sunday for the desperate.
Variable offshore winds are due tomorrow morning ahead of sea breezes, similar Sunday but it's all academic.
Monday looks clean again but small with the minimal kick in swell Sunday due to fade.
We then look at the mid-period W/SW swells due through Tuesday-Thursday next week. A broad but relatively weak frontal progression has developed around the Heard Island region, with fetches of strong to near gale-force W/SW winds due to be projected slowly towards us, moving further north in latitude through the weekend and more into our western swell window.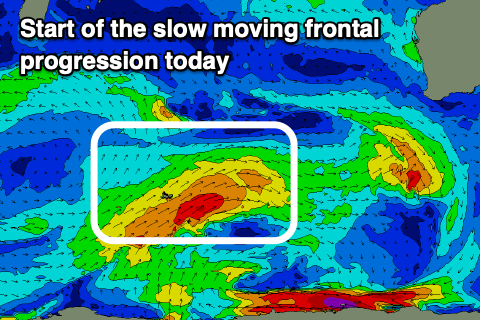 The swell will be prolonged due to the slow moving nature of the progression but this will also see less than ideal winds as the progression nears closer to us through next week.
There'll be varying pulses of swell from Tuesday afternoon through Thursday between 4-6ft around the South West, 2ft to possibly 3ft in Mandurah and 2ft+ across Perth.
Winds on Tuesday look offshore in the morning, though shifting SW through the day and W into the afternoon with lingering W/SW winds across the South West Wednesday, better to the north and S/SE ahead of sea breezes.
A trough looks to bring a change Wednesday evening with winds swinging back offshore from the E/SE Thursday morning in the South West though S/SE to the north. Moving into Friday a stronger front may bring a change as the swell eases, but the models diverge regarding this.
Longer term, we've got a stronger polar frontal progression due to fire up in our southern swell window later next week, bringing some S/SW groundswell for next weekend, but more on this in Monday's update. Have a great weekend!