Wednesday, 27 May 2020
Larger onshore surf to come, settling next week
Western Australia Surf Forecast by Craig Brokensha (issued Wednesday 27th May)
Best Days: Perth and Mandurah Saturday morning, Monday and Tuesday next week
Recap
Margs remained large and stormy through yesterday while more variable winds to the north provided good to great conditions with the swell slowly sorting itself out and easing from 4-6ft in Mandurah, 4ft or so in Perth.
Today the swell was smaller but still poor across the South West, onshore in Mandurah with a window of cleaner conditions across Perth and 3-4ft surf. The wind and swell have kicked again into this afternoon as a cold front clips the state.
This week and weekend (May 28 - 31)
The front pushing into us today is generating a new mid-period W/SW swell for tomorrow that should keep the South West up around the 10ft range, 3ft to occasionally 4ft in Mandurah and 3ft across Perth.
Before the swell gets a chance to ease another strong mid-latitude front will push up and into us through the day, bringing strengthening W/NW winds across all locations tomorrow (NW early in Perth), reaching near gale-force through Friday ahead of a late swing to the W/SW.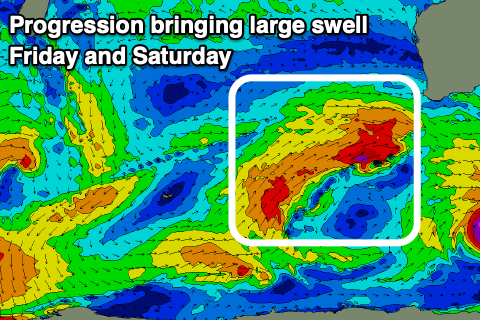 We'll see the swell building further to 10-12ft through the day across the South West Friday, 3-5ft across Mandurah and 3-4ft in Perth, persisting around a similar size on Saturday owing to a weaker but trailing front pushing up and into us Friday evening.
As a result winds will remain onshore and out of the SW on Saturday, fresh across the South West with Mandurah and Perth likely to see more favourable morning S/SE-SE breezes.
One final front clipping the state Sunday looks to steer winds back onshore across all locations as the size slowly eases.
Come early next week we should see conditions settle down as winds swing offshore from the E/NE and there should still be sizey surf to 6ft to occasionally 8ft in the South West, 2-3ft in Mandurah and 2ft across Perth, slower thereafter.
Following this the outlook is slower, but more on this Friday.