Friday, 15 May 2020
Building swell energy as winds swing to the south
Western Australia Surf Forecast by Craig Brokensha (issued Friday 15th May)
Best Days: Saturday, Sunday morning, Monday protected spots, Tuesday, Wednesday
Recap
Much smaller surf yesterday with the swell dropping right put back to 3ft or so across the South West with clean conditions and light winds, tiny in Perth and Mandurah.
Today a slight increase in new W/SW swell has provided 1-1.5ft waves in Mandurah, tiny in Perth with clean conditions, bumpy and small to 3-4ft in the South West.
This weekend and next week (May 16 - 22)
Later today our new W/SW groundswell is due to start building, with a peak expected tomorrow ahead of the larger groundswells into Sunday and Monday.
There's no change to this first swell with good 5-6ft sets due across the South West, 2ft in Mandurah and 1-2ft in Perth with offshore E/SE winds, SE in Perth and Mandurah, shifting S/SE-SE into the afternoon.
There's also been no real change to the mix of W/SW and SW groundswell for Sunday with the former generated by a great fetch of gale to severe-gale W/SW winds south-east of South Africa and north of Heard Island and the later by a closer-range storm that's currently projecting east-northeast towards us, generating W/SW-SW gales.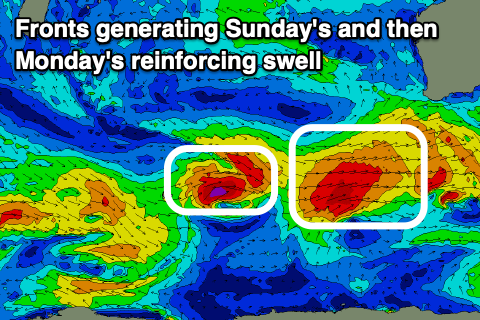 We'll see the later be bigger and more consistent with some funky weird mixed sets likely when both swells fill in Sunday. Building surf to 8-10ft is due across the South West, 3ft+ in Mandurah and 2-3ft across Perth.
A slight easing trend is expected into Monday morning but a secondary tight and intense mid-latitude moving in from the west-south-west should produce a reinforcing pulse of W/SW swell, maintaining the size.
Margs is expected to hold around 8ft to occasionally 10ft in the South West, 3ft in Mandurah and 2-3ft across Perth, easing Tuesday.
Local winds Sunday still look good with light offshore E/SE breezes, giving into S/SW sea breezes though Monday still looks average and best in protected spots with fresh S/SE winds in Perth and Mandurah, S-S/SW across Margs.
Winds should swing back to the E/SE-SE on Tuesday as the swell eases back from 6-8ft, 2ft+ and 2ft respectively.
We'll see the surf continuing to ease through Wednesday and the rest of the week as a strong blocking high moves in from the west, deflecting storms away from us.
On the other side of the high though, a couple of strong storms look to develop, pushing the high east as they move in.
Back to back large long-period groundswells are due off this progression later next weekend and into the following week, but the fronts look to also bring onshore winds. More on this Monday. Have a great weekend!