Monday, 30 March 2020
Improving conditions ahead of a windy end to the week
Western Australia Surf Forecast by Craig Brokensha (issued Monday 30th March)
Best Days: Tuesday morning, Wednesday morning besides Perth, Saturday and Sunday desperate surfers in the South West
Recap
Poor and onshore surf on Saturday with a building close-range SW swell, a bit better Sunday and easing across the South West with lumpy 4-6ft waves, better in Mandurah and Perth with clean easing 2-3ft waves around the former, 1-2ft around the latter.
Today we've started slow and bumpy in the South West but a new S/SW groundswell has since started to fill in and sets are now pushing 8ft with a further pulse in size due to reach 8-10ft. Mandurah was a clean and 2-3ft this morning with Perth 1-2ft though expected to kick to 2ft+ this afternoon.
This week and weekend (Mar 31 – Apr 5)
This afternoon's large and powerful S/SW groundswell should reach 8-10ft in the South West, 2-3ft in Mandurah which it already is at, and 2ft+ in Perth but with onshore winds, easing tomorrow as conditions improve across all locations.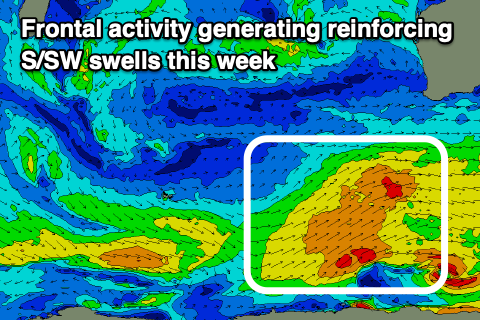 A lighter and more variable S-S/SE breeze is due across the South West with easing sets from 6ft+, a significant drop with the low linked to the swell moving off quickly east after spawning late in our swell window. Mandurah should ease back from 2ft+, with 2ft sets in Perth.
For the rest of the week we've got plenty of reinforcing pulses of S/SW swell on the cards, the best one for Wednesday, with it currently being generated by a front that's pushing south of us today.
A fetch of W/SW gales should see the surf hanging around 5-6ft in the South West on Wednesday, 1-2ft in Mandurah though tiny across Perth, easing Thursday from the 5ft range and 1-1.5ft respectively.
Conditions on Wednesday look great with a light to moderate E'ly offshore across the South West, giving into afternoon sea breezes but come Thursday an approaching cold front come deepening mid-latitude low will bring strengthening W/SW shifting S/SW winds and a kick in close-range S/SW swell.
No major size is really expected, with the swell easing into Friday from 4-6ft in the South West, 2ft Mandurah and 1-1.5ft Perth as winds swing slowly back to the S/SE-SE. Now the timing of this swing depends on how quickly the deepening mid-latitude low moves east, with EC having it quicker than GFS, so check back here on Wednesday for a much clearer idea on this.
Either way winds look to swing back more offshore on the weekend though a touch strong at times with smaller levels of background swell energy. There's no significant size expected with tiny waves in Perth and Mandurah, better across the South West and to 3-4ft or so.
Monday may see a small new increase in swell from a tight and short-lived low firing up north of the Heard Island region late week. Beyond this there's nothing too significant to follow, but more on this Wednesday.