Southerly swells for the period ahead
West Australian Surf Forecast by Guy Dixon (issued Wednesday 29th July)
Best Days: Thursday morning, Saturday and Monday.
Recap:
It was a dormant start to the week with an fading southwest swell easing to around to 1-2ft across the Southwest on Tuesday. Perth and surrounding metro beaches had weak 1ft surf under northerly breezes creating pretty ordinary conditions. Since then however, we've seen the surf kick to around 4-6ft across the Southwest today, with light offshore winds leading to some fun looking peaks.
This week (July 30th - 31st):
Off the back of today's southwesterly pulse, the surf will gradually ease back to around 4ft by Thursday afternoon across the Southwest, and around 1-2ft for Perth. Fortunately, winds look to be favourable throughout the day with light/moderate easterlies in the morning, swinging east/northeast (more northeast for Perth) in the afternoon.
The story is likely to continue for Friday, with the swell easing further due to a lack of frontal activity in the Indian Ocean. In terms of wind, it's looking like a particularly dynamic day as a complex low looks to pass over the Southwest. Winds should be light and variable first thing for the Southwest before adopting a gusty southeasterly flow throughout the day. Perth on the other hand is looking to have light northerly winds first thing, easing and becoming variable for the remainder of the day.
It doesn't take much for the situation to be vastly different however. If this low is situated a few hundred km further north or south, we could have a much longer period of light easterlies. Regardless, the surf will be lacking size and energy so there is not much point deliberating too hard.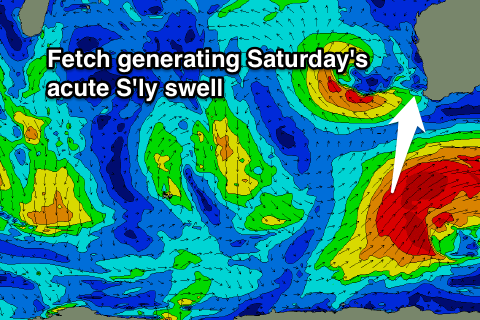 This weekend (August 1st - August 2nd):
A fetch of southwesterly gales/severe gales off the back of a polar front developing this evening will generate a fresh pulse of acute south swell for the Southwest due to fill in on Saturday morning. There will be a pretty noticeable contrast of sizes across the coast, with exposed south swell magnets picking up 5-6ft sets. Further north, Perth will largely miss out, continuing to see 1-1.5ft surf. Southeasterly winds will prevail all day across the Southwest and Perth regions, easing as the day progresses.
The swell will ease throughout Sunday leaving residual 4ft southwest swell by the afternoon. There should be plenty of options for all ages and levels of experience with generally light and variable winds for the best part of the morning and early afternoon.
Next week (August 3rd onward):
A fresh pulse is looking to impact the Southwest overnight from Sunday into Monday. This will have been generated by a similar polar front moving closely behind the aforementioned system directing a fetch of southwesterly severe gales. At times, winds should gust up to 50 knots (late Friday night, stronger on Saturday morning, but too far east for WA window) resulting in a kick to 4-6ft.
Similarly to the Saturday's swell event, the direction will have a fair amount of south in it, so there will be a fair disparity on size between locations (not quite as pronounced as Saturday). Perth should pick up 1ft peaks.
Winds are looking great - all day. Light easterlies across Perth and the Southwest likely leading to clean, well organised surf. This looks to be the pick of the forecast for me.