Strong winds and no major swells
Western Australia Surf Forecast by Craig Brokensha (issued Monday 5th January)
Best Days: Tuesday through Friday in semi-protected spots across all coast, Saturday and Sunday mornings Margs and Gero
Recap
A good spike in swell was seen across the state through Saturday with 6ft+ waves across the South West under improving winds through the morning. Perth was smaller and around 2ft on the sets while Gero saw a building swell Saturday, easing Sunday under SE winds.
Today the swell has really bottomed out across the South West with straight offshore winds, while Perth was around 1ft and clean, with more size up at Gero under funky variable winds.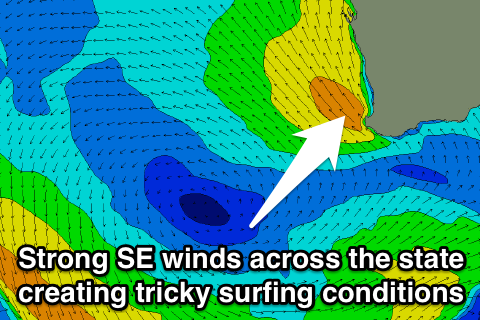 This week and weekend (Jan 6 - 9)
The week ahead will become windy and with small to moderate pulses of swell from the SW, but with no major size.
An initial increase in size is due through this afternoon, peaking around midday tomorrow across the South West and during the afternoon up in Perth, arriving later around Gero.
The source of this swell and a reinforcing number for Wednesday is a series of strong polar fronts firing up to our south-west.
Tomorrow's pulse should reach 4-5ft around Margs with the odd bigger bomb possibly, with 1-2ft sets in Perth and 3ft waves up at Gero (although S'ly windswell from strong afternoon S/SE winds up the coast should produce 3-4ft of S'ly windswell from Wednesday arvo through Thursday).
A slight drop back in size is due into Wednesday to but still in the 3-5ft range around Margs with the odd 2ft set around Perth.
Winds tomorrow look the worse with a surface trough slipping inland bringing with it onshore S/SW winds to all locations, although early around Perth and Gero winds should be more variable.
Wednesday will improve as winds swing back to the SE but with strength across Perth and Margs, with S/SE winds up at Gero.
Thursday should offer cleaner conditions with winds swinging more E/SE around Perth and SE up at Gero, while Margs will be teetering between E/SE and SE. The only problem is the strength with quite blowy conditions due through the period.
A new long-period and very inconsistent SW groundswell should build through the day though and fill in with a closer-range SW swell, building from 3-4ft around Margs to 4-5ft into the afternoon.
Perth should build to 1-2ft and then hold a similar size Friday with Gero coming in with inconsistent 3ft sets Friday.
Winds will remain strong from the E/SE Friday in Perth and more towards the SE up at Gero and down around Margs, with Saturday expected to offer the better E/SE winds everywhere as the swell dips away.
Sunday will be cleaner again with lighter E'ly winds but you'll have to hit up swell magnets across the state with the swell really bottoming out across all locations.
Longer term there's nothing too major on the cards for next week besides a moderate increase in W/SW swell Tuesday/Wednesday but more on this in the next update.