Surf today and tomorrow
Victorian Surf Forecast by Craig Brokensha (issued Monday 16th January)
Best Days: Today ahead of the sea breezes, tomorrow exposed beaches
Features of the Forecast (tl;dr)
Easing swell today with SE winds developing from mid-afternoon
Smaller tomorrow with freshening NE-N/NE winds ahead of a possible weak evening change
Small, inconsistent W/SW swell Wed with strengthening SW winds around dawn
Moderate sized, inconsistent W/SW swell Thu with strong S/SW tending S winds
Easing surf Fri with mod-fresh S winds
New, small S/SW groundswell Sat, mixed in with SE windswell and with strong E/SE winds
Easing S/SW swell Sun with a SE windswell and gusty E/SE winds
Recap
Great conditions for the beaches on Saturday but with a smaller, 2-3ft of swell, easing from late last week, with small to tiny, average waves on the Surf Coast.
Yesterday was poor with a strong onshore change and building windswell, but the trough linked to yesterday's change has cleared to the east and winds have improved this morning, ironing out a new, moderate sized SW swell.
The Surf Coast isn't great and all over the place with 3ft+ of swell, 4-6ft to the east and best over the coming hours before sea breezes kick in mid-afternoon.
This week and weekend (Jan 17 - 22)
Today's kick in mid-period energy should should start to ease into this afternoon and drop steadily into tomorrow but with favourable conditions for the exposed beaches.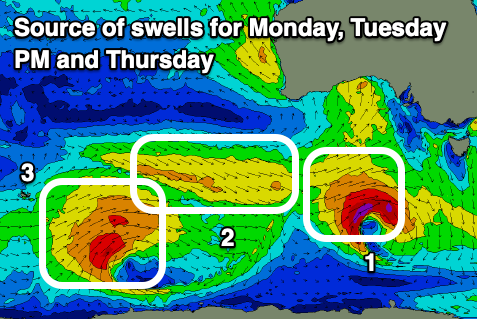 Easing 2ft waves are due on the Surf Coast with 3ft to occasionally 4ft sets to the east and a great , freshening NE-N/NE breeze that should hold into the early evening ahead of a possible late change.
We were expecting some small, mid-period W/SW swell for the late afternoon tomorrow but this looks to be a little weaker and delayed for Wednesday morning.
The better pulse of W/SW swell energy for late Wednesday and Thursday morning is on track though but so are the poor conditions with a strong onshore wind.
The source of both these swells was a polar low forming east of the Heard Island region late last week, with a small fetch of pre-frontal W/NW winds followed by a stronger and more prolonged fetch of W/SW winds around the core of the low.
Wednesday looks to be 1-2ft max on the Surf Coast with 3ft surf to the east, but winds will be unfavourable as a trough brings a strengthening SW change on dawn. There's a chance for a variable breeze at dawn though not worth chasing.
Thursday's inconsistent W/SW swell should come in around 3ft+ on the Surf Coast and 4-6ft to the east but with strong S/SW tending S winds in the wake of Wednesday's change.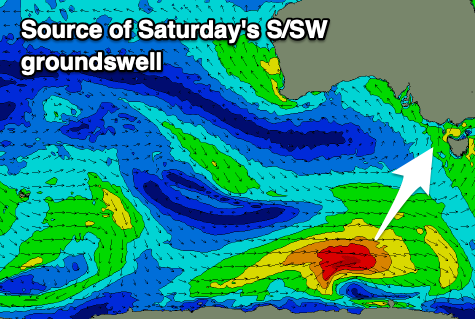 Unfortunately moderate to fresh S'ly winds will persist into Friday as the swell eases, with poor, strengthening E/SE winds that look to persist through Sunday.
This will kick up some localised SE windswell across the Surf Coast, while to the east there should be some more noticeable S/SW groundswell in the water to the east. The source of the swell will be a small polar low firing up along the polar shelf, south of the country Wednesday/Thursday.
A short-lived fetch of W/SW gales should generate 2-3ft waves on the Surf Coast with 4-5ft sets to the east on Saturday, easing Sunday as the SE windswell becomes more dominant.
Unfortunately the longer term outlook is void of any major swells, and easterly winds will persist thanks to a big stubborn high developing south of the Bight. This will block major swell activity, so make the most of today's and tomorrow's surf.