Fun options developing on the beaches
Victorian Surf Forecast by Craig Brokensha (issued Friday 17th June)
Best Days: Exposed beaches tomorrow afternoon and Sunday, Monday exposed beaches, Surf Coast Tuesday
Features of the Forecast (tl;dr)
Small, inconsistent, mid-period W/SW swell tomorrow with N/NW tending NE winds, easing Sun with N/NE-NE winds
Inconsistent, mid-period W/SW swell building Mon PM, peaking Tue, easing Wed
Strengthening N/NE winds Mon, gusty NW tending W/NW Tue and NW tending W Wed
Recap
A small pulse of weak W/SW swell yesterday to 1-2ft on the Surf Coast and 3ft+ to the east, cleanest in protected spots west of Melbourne through the morning.
The swell has eased into today and conditions are mixed after yesterday's change with lumpy, peaky 1-1.5ft waves on the Surf Coast, 2ft+ to the east.
This weekend and next week (Jun 18 - 24)
As discussed in the last few updates we'll be relying on inconsistent, small, westerly swell this coming period and while the models show a fairly decent increase in energy tomorrow, I feel likely they're overcooking things a touch.
The source of tomorrow's swell was a couple of weak fetches of strong W/NW winds in our far swell window and the Surf Coast is only due to generate an inconsistent 1-2ft wave with 3ft+ sets to the east.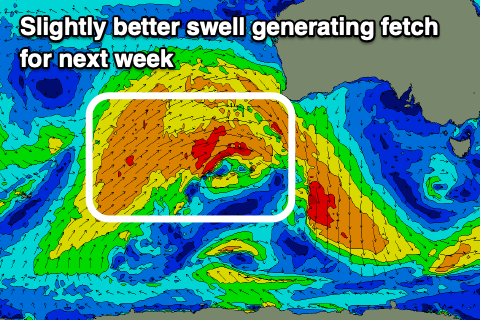 Locally winds will be favourable for both regions, light N/NW tending NE, best to the east after lunch.
NE-N/NE winds will favour the exposed beaches all day Sunday but with easing size from Saturday, tiny on the Surf Coast and a slow 2-3ft to the east.
As we head into next week we should see some slightly better mid-period W/SW energy with the progression firing up and across Western Australia being a little better aligned than forecast on Wednesday.
We're seeing a broad, elongated fetch of strong to sub-gale-force winds aimed through our western swell window, with the swell due to build slowly Monday afternoon but peak Tuesday to 2ft to occasionally 3ft on the Surf Coast magnets, 4-5ft to the east with the possible rare bigger one.
Winds will increase and vary ahead of an approaching front, with a strengthening N/NE breeze expected as the swell builds on Monday, favouring the exposed beaches with Tuesday seeing gusty NW tending W/NW winds, favouring the Surf Coast.
There's no swell due to be generated by the fronts moving through and across us mid-week, with easing surf and NW tending W'ly winds due Wednesday.
We're looking at a better W/SW groundswell developing for next Friday and weekend with favourable winds for the Surf Coast. More on this Monday. Have a great weekend!