Poor weekend, better options next week
South Australian Surf Forecast by Craig Brokensha (issued Friday June 17th)
Best Days: South Coast Monday afternoon and Tuesday morning, both regions Wednesday
Features of the Forecast (tl;dr)
Tiny W swell for Fri PM, easing Sat PM with mod-fresh N/NE winds Sat
Tiny Sun with strong N/NE winds
Building, moderate sized mid-period W swell Mon, holding Tue, easing Wed
Gusty N tending NW winds Mon (N/NE early on the Mid), fresh W//NW tending W/SW Tue
Moderate NW winds down South Wed, NE tending NW on the Mid Coast
Moderate sized W/SW groundswell for Friday-Sun next week
Recap
Workable and improving surf across the Mid Coast yesterday with early light onshore winds tending variable along with 1-2ft sets. The South Coast was cleaner but small and weak, best in semi-protected spots.
Today the Mid is clean but back to 1ft, with nice conditions also down South and peaky 1-2ft sets.
This weekend and next week (Jun 18 – 24)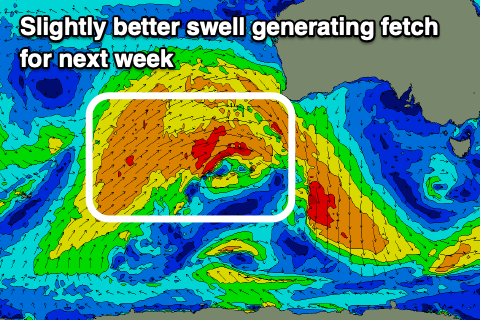 The weekend isn't too exciting regarding surf prospects with a small to tiny, inconsistent W/SW swell due to move in this afternoon and ease through tomorrow. The Middleton stretch may see inconsistent 1-2ft sets but it'll be mostly 1-1.5ft and easing through the day. The Mid Coast looks to hold around 1ft.
Looking at the winds and a moderate to fresh N/NE breeze will favour the South Coast with the Mid becoming wind affected, more so Sunday as wind strengthen further from a similar direction owing to an approaching mid-latitude frontal system.
With the tiny swell down South though there'll be nothing to recommend.
Looking at the outlook for next week and we've got a bit of an upgrade of the mid-period W/SW swell due Monday through Wednesday with the broad, elongated frontal progression that's currently pushing up and into Western Australia.
A good fetch of strong to sub-gale-force W/SW-W winds are being aimed through our western swell and we'll see a moderate sized swell building through Monday and reaching 2ft+ across most breaks, holding Tuesday and then easing from 2ft Wednesday.
Owing to the westerly swell direction the South Coast will miss out on a bit of size but should come in around 2-3ft across Middleton (inconsistent).
Winds will favour the South Coast with gusty N tending NW winds on Monday (N/NE early on the Mid Coast) with fresh W/NW tending W/SW breezes Tuesday. Lighter NW winds might be seen on Wednesday favouring the South Coast again.
A temporary low point in swell is expected on Thursday but into Friday and the weekend, we're looking at the arrival of a moderate sized W/SW groundswell. This will be generated through the southern Indian Ocean and looks to be prolonged but with winds out of the western quadrant. More on this Monday, have a great weekend!